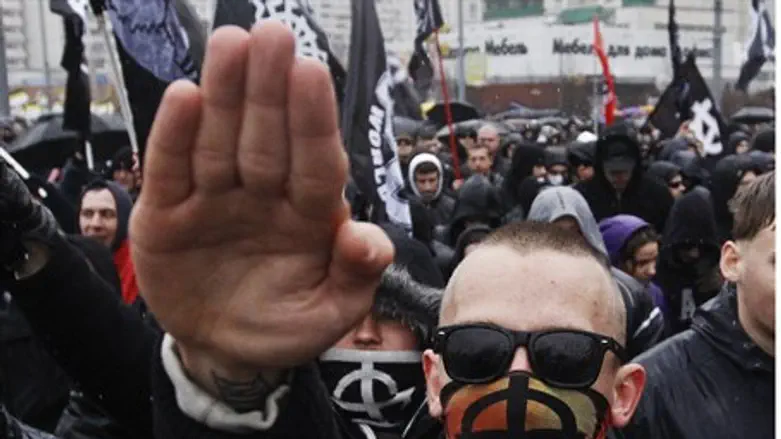 Neo-Nazis
Reuters
A clothing store favored by Neo-Nazis has provoked outrage after opening up in the heart of Britain's Jewish community.
German clothing brand Thor Steinar opened its first UK store in Finchley, north London, yards away from the office of the Chief Rabbi, and not far from the headquarters of the Islamic Association.
The brand is popular among Neo-Nazis and other fascist groups, and heavily features Nodic symbols often associated with white supremacism.
Its original logo featured runes placed together to resemble the insignia of the Nazi SS.
In 2012 it sparked anger after naming a German store "Brevik", which some critics said was a blatant tribute to far-right killer Anders Behring Breivik.
It is illegal to wear Thor Steinar products in the German parliament, as well as in state assemblies in Mecklenburg-Vorpommern and Saxony, and several German soccer clubs have banned it from their stadiums as well. 
The decision to open in Finchley has been branded "deliberately provocative" by local Jewish and Muslim residents, who have called for the shop to be closed, according to the Daily Mail.
43-year-old resident Ben Glickman told the paper that he was concerned the new store could actually stoke anti-Semitism and racism in the area.
"It is disgraceful that this store has opened in a such a prominent Jewish area of London, and with so many other ethnic minorities that make up the area. It is a deliberately provocative act.
"As a result of the store being advertised on a neo-Nazi website, it is likely also that it would attract far-right hooligans to the area. This is extremely worrying."
Jewish organizations were quick to condemn the store.
"It is a disgrace that someone is allowed to sell these items in the UK that glorify the worst atrocity in our history. This is banned in Germany so why is it legal here?" asked the head of Britain's Zionist Federation, Alan Aziz.
A spokesperson for the Community Security Trust (CST), which combats anti-Semitism and provides security for the Jewish community said the shop was "not welcome". 
"This is a multi-cultural area with very few problems from racism and neo-Nazism and the like... the sooner it moves on the better."
But the shop's owner Zsolt Mogyorodi dismissed the furore and insisted that the only reason he opened it in the area was due to the large Eastern European community in the area, many of whomlike the brand.
"I'm really upset about this. I have lots of black people friends. I've got lots of Indian friends. I'm not Nazi. I'm not racist," he insisted.
The controversy erupted at a sensitive time, after white supremacist gunman and former KKK leader Frazier Glenn Cross murdered three people at Jewish institutions in Kansas City. Frazier was caught on camera during his arrest shouting "heil Hitler".