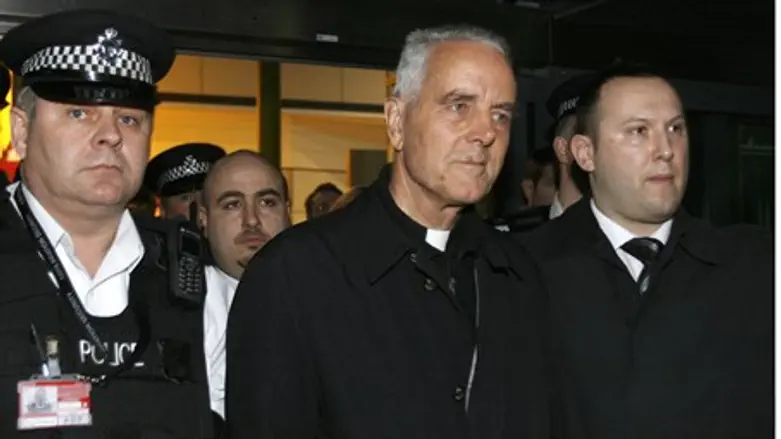 Holocaust-denying Bishop Richard Williamson e
Reuters
A German court in Nuremberg has rejected the appeal of the British-Catholic Bishop Richard Williamson, who was convicted of denying the Holocaust.
In an interview to the Swedish channel SVT1 in 2009, 74-year-old Williamson, openly doubted that six million Jews were killed during the Holocaust, and claimed that the real numbers are much lower.
He also disputed the existence of Nazi gas chambers, claiming that only "between 200,000 to 300,000 Jews perished in Nazi concentration camps, but not one of them by gassing in a gas chamber."
"The historical evidence is hugely against six million Jews having been deliberately gassed in gas chambers as a deliberate policy of Adolf Hitler," claimed Wiiliamson. He also said that Germany has paid out billions of Deutschmarks and Euros because of "their guilt complex".
The controversial interview was rebroadcast over the internet in Germany, where Holocaust denial is considered a criminal offense, and Williamson was charged and convicted of incitement to hatred and fined 1,800 euros. The judges said that his statements were carefully planned.
The prosecution had asked to impose a 5,400 euro fine but the judges ruled that Williamson had no income and lowered the fine to 1,800 euro.
Williamson filed his first appeal in 2013. His lawyer argued that the television interview was to be broadcast only in Sweden, where Holocaust denial is not a criminal offense, but the fact that the interview was conducted when Wiiliamson was in Regensburg, Germany, led the judges to reject the first appeal.
The second appeal was also rejected, and the judges ordered Williamson to pay the fine. 
Williamson is no stranger to controversy; in 2009 he was deported from Argentina after the government there said his frequent denials of the holocaust "profoundly offend the Argentinean society, the Jewish people and all of humanity".