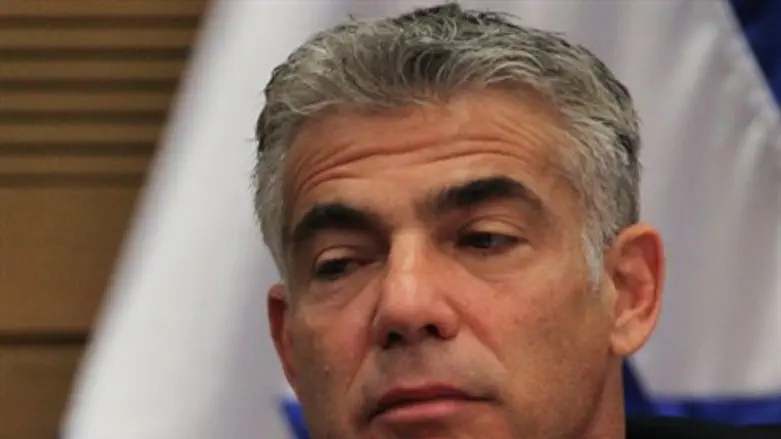 Yair Lapid
Flash 90
Finance Minister Yair Lapid provided his detractors with much cause for mirth over the weekend when he made another one of his periodical Facebook gaffes.
This time, the leader of the secularist Yesh Atid party got his philosophers mixed up – or at least, the times in which they lived. Lapid – who has been a columnist and journalist for most of his life – wrote a long Facebook post that was phrased as a prayer to G-d for Pesach, and loosely based on the famous 'Dayenu' Seder song.
"Our Father in heaven," wrote the minister mid-way through the post, "There was a philosopher in the 16th century named Zeno, who asked – 'Can G-d create a rock that even He cannot lift?' So they thought that this question has no solution. That it is a paradox. Today we know that the answer is yes. There is a rock like that, and it is called the Palestinians. And it is true that you cannot lift it, our Father in heaven, but maybe you can roll it to the side a little?... We need you where we always needed you: when all other options have failed. And even then, our G-d and the G-d of our forefathers, it is not enough for us."
The problem with this is that – as Lapid's more historically knowledgable Facebook followers quickly pointed out – Zeno of Elea, famed for his paradoxes, was a Greek philosopher who lived in the 5th century BCE. That is – roughly 2,000 years earlier than the time Lapid gave. While Lapid was quick to edit his post and correct the gaffe, his followers were quicker and the screenshot of the original post was saved for posterity.
Another problem, according to the critics, is that the paradox Lapid cited, which is known as the Omnipotence Paradox, is not attributed to Zeno at all, but to medieval philosophers from the 12th century.
Lapid's blunder is only the latest in a series of embarrassing posts he has made ever since acceding to power as minister.
His funniest one, to date, was a post in which he confused Rocinante, the horse ridden by illustrious fictional character Don Quixote, with Dulcinea, the woman with whom Don Quixote was infatuated, and described Don Quixote as being mounted upon the latter instead of the former.
His most politically damaging mistake was a post he made soon after being named Finance Minister, in which he invented a typical struggling middle class Israeli family, the Cohens, who live off 20,000 shekels a month and "only" fly abroad on holidays once every two years – a situation most middle class families would be only too glad to trade places with. This post led to Opposition criticism of Lapid as supercilious and disconnected from harsh reality.
After much success as a journalist, writer, actor, commercial presentor, television personality and politician, Lapid appears to have an unsated longing for recognition as an intellectual, too. This weakness has landed him in trouble periodically and seems to make it impossible for him to stay away from Facebook for very long - or at least to ask someone to fact-check his posts. Although he does not even have a BA degree, he had been placed on the fast track for a doctorate at Bar Ilan University before public outcry, and an inquiry by the Council for Higher Education, put an end to that plan.
Lapid's penchant for misinforming his readers dates back to pre-Facebook days, too, according to pundit B. Michael. Michael has noted that Lapid once wrote an article that identified Copernicus, a Polish astronomer who lived in the 16th century, as an ancient Greek philosopher, and labeled Giacometti, a Swiss sculptor who died in 1966, as a Renaissance genius.