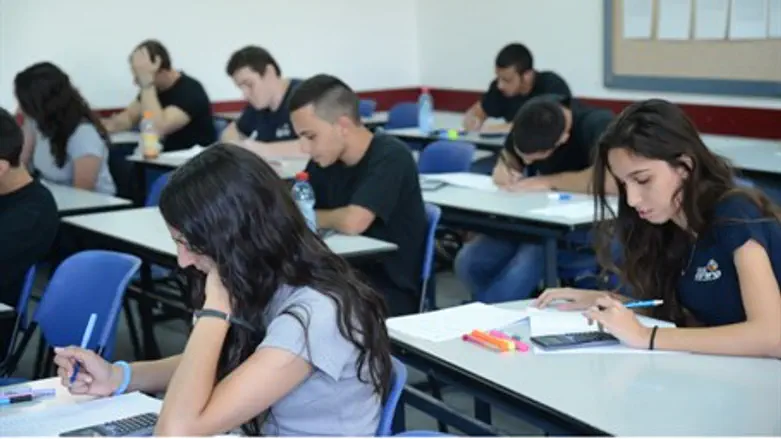 High school students (illustrative)
Flash 90
One of Britain's top public schools is the subject of scandal Sunday, after it was revealed that a teacher threatened to send a Jewish student to 'one of your gas chambers' for skipping the lunch line. 
The student, a seventeen year-old girl at the highly prestigious North London Collegiate School, later received an apology from the teacher in private over the remark, according to the Daily Mail.
The school has refused to identify the offending teacher, however, or what - if any - disciplinary action had been taken over the remark. The girl's parents urged the headmistress on Saturday night to make a public statement against the anti-Semitic incident. 
"A teacher was passing by and she rushed up to my daughter and said, 'Don't do that or I'll have to send you to the back of the queue or to one of your gas chambers'," the girl's father told the Daily Mail.
He added that several students overhead the remarks. "It was very unpleasant, very uncalled-for and very unfortunate. My daughter was shocked and upset. She didn't say anything to the teacher at the time but all her friends expressed amazement. They kept saying, 'Did she really say that?'"
Another student has reported the incident to the Community Security Trust, an organization which combats anti-Semitism in Britain. The organization stated that they are working with teachers and parents to resolve the issue.
North London Collegiate School is an exclusive all-girls' school; according to deputy head Alex Wilson, between 20-25% of students are Jewish. 
The girl's father noted that anti-Semitism has not been a problem before, nor since in the three months since the incident. 
"The school doesn't deserve to be in the middle of a race issue. It is normally a model of correctness in these things," he said. "But there should be an element of visibility so people see the teacher has been disciplined. My wife and  I would also like the school to make a public statement that there has been an incident and [the remark] was totally unacceptable." 
Meanwhile, the school's administration has remained ambiguous about what actually happened. 
"North London Collegiate School is proud of its rich, multi-cultural history and celebrates equality and diversity within the school community," it said in a statement.
"The school was recently made aware of an allegation of an offensive statement made by a member of staff. The school promptly commenced an investigation. Having reached a determination and sought specialist legal advice, appropriate action was taken."