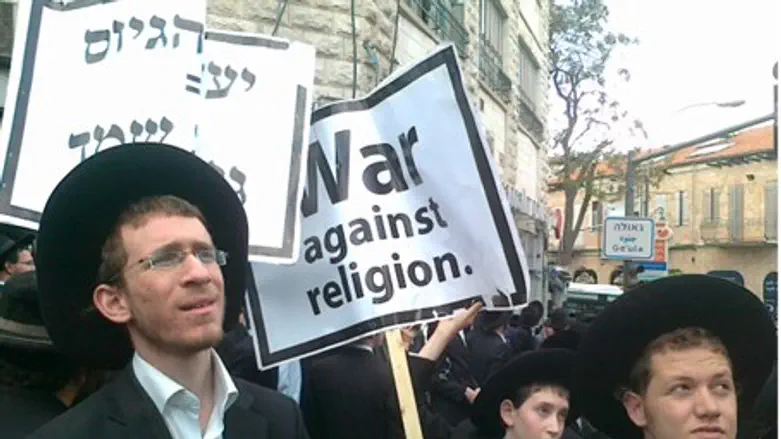 Hareidim protest in Jerusalem
Avrami Tzemach, News 24
Dozens of hareidim arrived at Sderot Eshkol Street in Jerusalem on Saturday night to prevent the police from arresting a man in the community for avoiding his draft summons.
The protesters, who arrived at the conclusion of Shabbat, blocked the road into Jerusalem, threw stones at police and set fire to trashcans. The police arrested six protesters for violent activity.
This protest was one of three hareidi gatherings that occurred across the country Saturday night demonstrating against the jailing and arrest of a yeshiva student for dodging his draft summons.
The simultaneous protests took place at the entrance of the hareidi city, Bnei Brak, and in Ashdod. Three police officers were injured in Bnei Brak, though not critically, as a response to the rally. In Ashdod, police arrested one man as a group of hareidim celebrated the release of another man who had been jailed for failing to answer a draft summons.
The hareidi protest came as a response to the larger concern about the draft bill passed last month, legislating that hareidim be drafted to the army. This is not the first time in the past month that they've taken their disproval to the streets.
The latest version of the draft bill has faced scathing criticism from hareidi leaders over its inclusion of individual criminal sanctions against draft-dodgers that would kick in if the community as a whole failed to meet rising quotas for the draft.
But it has also faced criticism from proponents of an equal draft for delaying such criminal sanctions until mid-2017, after the next election.
Last Thursday, hundreds demonstrated at the Shabbat Square in the capital. The demonstrators blocked roads leading to the square and prevented the entry of vehicles and buses to the area.