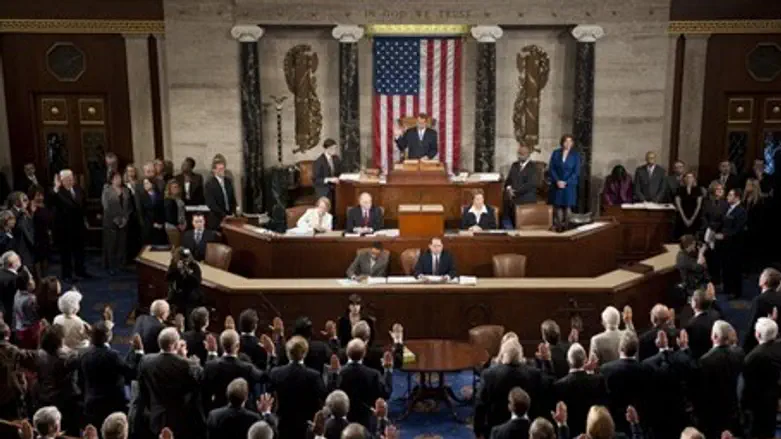 U.S. Congress
AFP photo
Congress on Thursday backed a bill that would bar Iran's choice for ambassador to the United Nations from stepping on U.S. soil, reports The Associated Press (AP).
The House unanimously approved the legislation on Thursday by voice vote, four days after a similar vote in the Senate. The unusually quick action underscored the strong bipartisan opposition to Iran's choice.
The bill will now be sent to President Barack Obama for approval.
American officials have objected to the selection of Hamid Aboutalebi as Iran's UN ambassador, because of his alleged participation in a Muslim student group that held 52 Americans hostage for 444 days in the 1979 incident.
Aboutalebi, Iran's former ambassador to Belgium and Italy, was a member of the Muslim Students Following the Imam's Line, the group of students that seized the U.S. embassy and held its staff hostage. Aboutalebi has said he had minimal involvement in the hostage-taking group.
Iran has defended its appointment of Aboutalebi, brushing aside U.S. concerns and saying he is a veteran diplomat with a successful record and is as such qualified to serve at the UN.
The Obama administration has told Iran the choice is unacceptable in a clear attempt to get Tehran to back down and make another selection. The dispute comes amid nuclear talks between Iran and six world powers.
Ahead of the House vote, White House spokesman Jay Carney refused to say whether Obama would sign the legislation.
Carney reiterated the administration's earlier assertion that Iran's selection for UN ambassador is "not viable" and said the White House was continuing to "make that understood" to the Iranians.
State Department spokeswoman Marie Harf had called the decision "extremely troubling", and at least 29 Republican Senators had appealed to the Obama administration to deny Aboutalebi a visa to enter the U.S.