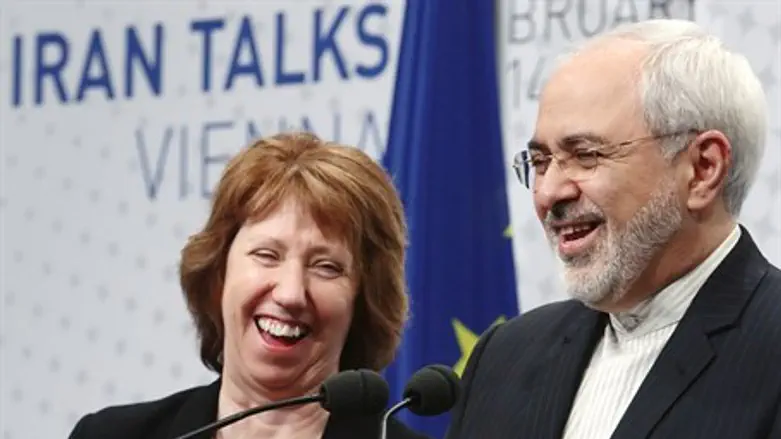 Ashton and Zarif
Reuters
Iran and world powers said Wednesday that their nuclear talks were now moving up a gear, AFP reported, with Iran's foreign minister saying both sides agreed on "50-60 percent" of issues.
Speaking after the latest round of talks in Vienna, the EU foreign policy chief Catherine Ashton said the next round from May 13 would see negotiations "move to the next phase."
A senior U.S. official said that the next meeting, also in Vienna, would see Iran and the five permanent members of the UN Security Council plus Germany "begin actually drafting the text."
Iran's Foreign Minister, Mohammad Javad Zarif, was cautious, however, saying that a "lot of intensive work will be required to overcome the differences which naturally still exist."
"I can say we agree on 50-60 percent of issues, but the remainders are important ones and diverse," Zarif was quoted by AFP as having told Iranian media. "Even two percent can torpedo all of it".
In a sign of the difficulties ahead, the U.S. official said that one issue remained Iran's ballistic missile program, which Tehran has said is not up for discussion within the nuclear talks.
Zarif said also that Iran's negotiators have "put forward our stance that none of our (nuclear) facilities would be dismantled," one of the West's probable main demands.
"I would caution everyone from thinking a final agreement is imminent or that it will be easy. As we draft, I have no doubt this will be quite difficult at times," the American official said, according to AFP.
Under a six-month interim deal which was reached between Iran and six world powers in November, the Islamic Republic agreed to freeze its uranium enrichment program in return for sanctions relief, including the transfer of some $4.2 billion in frozen overseas funds.
That interim agreement is meant to lead to a final accord that minimizes any potential Iranian nuclear weapons threat in return for a full lifting of sanctions.
Iran has not permanently dismantled any of its nuclear equipment and can fully reactivate its facilities if it wishes when the deal expires on July 20, the deadline for agreeing a final deal.
U.S. Secretary of State John Kerry told lawmakers Monday that the theoretical period needed for Iran to produce a weapon's worth of bomb material - if it chose to do so - was "about two months".
Throughout the negotiating process, Iran has insisted that it has a right to enrich uranium and has remained adamant that it will not give up that right.