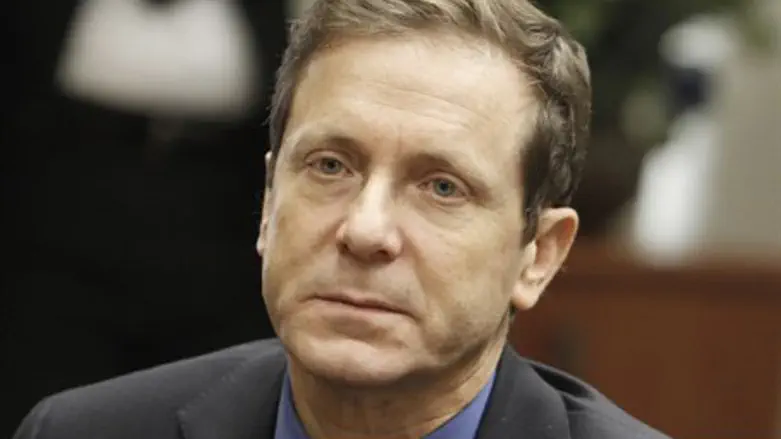 Opposition Leader Yitzhak Herzog
Flash 90
Critics and supporters alike did not waste time responding to Prime Minister Binyamin Netanyahu's instructions on Wednesday to cut off all governmental ties with the Palestinian Authority (PA), excluding Defense Ministry links with PA security forces, and diplomatic links related to the peace talks, which are expected to stagger on until the end of April. 
The move came as promised, after Israel warned the PA last Thursday it would take several punitive actions and sanctions as a response to PA Chairman Mahmoud Abbas's breaching of peace talk conditions by requesting membership in 15 UN agencies.
Opposition Chairman and Labor Party Chair Yitzhak Herzog, who has expressed support for dividing Jerusalem and withdrawing from most of Judea and Samaria, slammed Netanyahu's orders on Wednesday.
"The prime minister is putting gasoline and flammable materials in the hands of the haters of Israel, it's not clear what benefit will sprout from this excessive step," claimed Herzog. "Netanyahu has started the process of Israel's disengagement from the world."
However, other voices spoke out in support of Netanyahu's move. Deputy Education Minister Avi Wortzman (Jewish Home) welcomed the call to cut cooperation with the PA.
"The practice of free gifts that Israel is giving the Palestinians has to stop. The time has come for Abbas, who has proven time and again he isn't interested in peace, and the Palestinians, to understand that every unilateral step they take has immediate consequences," declared Wortzman.
Finance Committee Chairman MK Nissan Slomiansky (Jewish Home) similarly said "the Palestinians need the peace talks much more than we do." The assessment follows a new survey released Tuesday, which found 45.5% of Israeli Jews felt the talks were not urgent.
"It's a serious mistake to think that we need to pay some kind of price for them to talk to us," argued Slomiansky. "I welcome the prime minister's decision to respond firmly to the provocation of the Palestinian Authority."