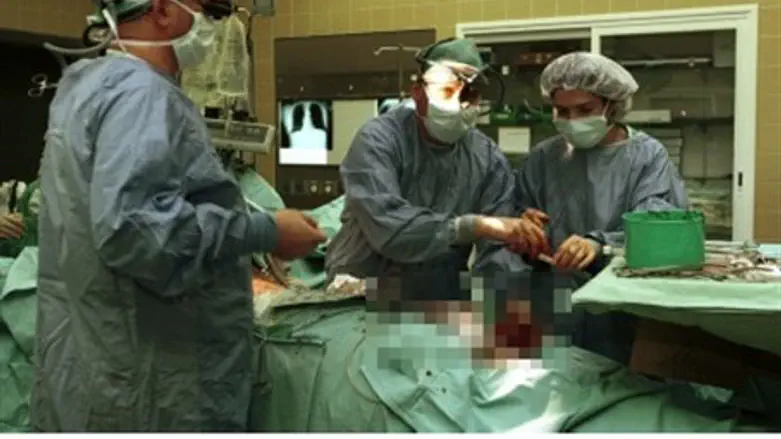 Transplant
Flash 90
Life is renewed amid the remnants of tragedy, as the donated organs of a South African tourist who tragically died last Tuesday in Jerusalem from an allergic reaction to tahini, a Middle Eastern sesame paste, saved the lives of four others.
Petah Tikva's Beilinson Hospital reported on Tuesday that the organs of the tourist, who died in her 30s, successfully saved four patients, according to Walla!.
The woman's family, who arrived in Israel during the three-day heart-wrenching struggle to try and save her life from the severe allergic reaction to sesame, decided on the donation, saying "it's what she would have wanted."
She had arrived in Israel on a group trip just over ten days ago; after only three days in the country, while staying at a hotel in Jerusalem, the woman ate a fish dish served with tahini without knowing it is made from sesame, which she was deathly allergic to.
After she passed, the woman's liver was transplanted to a young mother in her 30s who just gave birth a month ago, and who was brought to the emergency room over a week ago due to a serious liver condition.
The mother was in danger of dying if she did not receive an immediate liver transplant, and was saved by the tourist's organ just in the nick of time.
"Until the liver arrived, the woman was connected to an artificial liver machine," noted Prof. Pierre Zinger, manager of the hospital's general intensive care unit. "The treatment given was intensive, we were under a sand hourglass that was about to run out at any moment."
The tourist's lungs were transplanted to a 40-year-old man, suffering from cystic fibrosis. He is currently still hospitalized at Beilinson Hospital in a stable condition.
The corneas from the woman's eyes were transplanted to a young man and woman, who suffered from the disease keratoconus, which deforms the shape of the cornea. Both of them are currently in good condition.