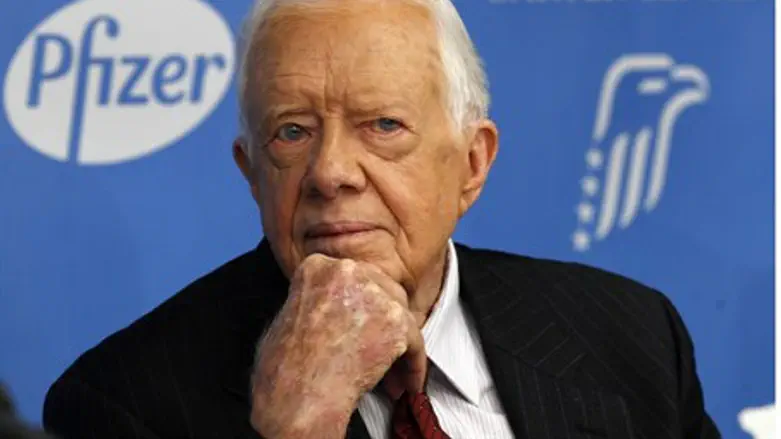 Former U.S. President Jimmy Carter
Reuters
Former U.S. President Jimmy Carter on Monday expressed support for the Palestine Liberation Organization's (PLO) move to seek membership in international organizations, reports the Ma'an news agency.
"The decision by the Palestinians to exercise their right to join international organizations should not be seen as a blow to the peace talks," Carter said in a statement.
"I hope that, on the contrary, it will help to redress the power imbalance between Israelis and Palestinians, as we approach the 29 April deadline set by Secretary Kerry," he added, according to Ma'an.
The impasse in the peace talks came last week when Palestinian Authority (PA) Chairman Mahmoud Abbas requested to join 15 international agencies in breach of the talk conditions. In response, Israel cancelled the fourth terrorist release "gesture".
The sides met on Sunday night in a last-ditch effort to salvage the peace process, but those talks ended without a breakthrough, as the PA blamed Israel for the impasse.
Carter has in the past called on the European Union to "introduce proper labeling of goods produced on illegal Israeli settlements in the West Bank."
In 2012, he condemned Israel over the stalled peace talks and said that Prime Minister Binyamin Netanyahu's government was not interested in pursuing a two-state solution.
In 2006, Carter wrote a book entitled "Palestine: Peace Not Apartheid." His claims in the book, which he continued to espouse even after factual errors were revealed, led the honest reporting group CAMERA to say that the ex-president "clearly has an Israel, and even a Jewish problem."
Carter also made highly offensive statements on Jews and Judaism in the Sunday school lessons he taught in church decades ago.
Meanwhile, The Elders, an independent group of global leaders who work together for peace and of which Carter is a member, said Monday they are "deeply worried" by the current impasse in negotiations, but noted that Abbas's decision to sign letters of accession to 15 treaties is "consistent with the UN non-member observer state status obtained by Palestine in November 2012."
Gro Harlem Brundtland, former Prime Minister of Norway and deputy chair of The Elders, said as a UN non-member observer state, Palestine is "entitled to join international bodies," according to Ma'an.
The PA's UN envoy has claimed that the PA is eligible to join up to 550 international treaties and conventions, including the International Criminal Court.