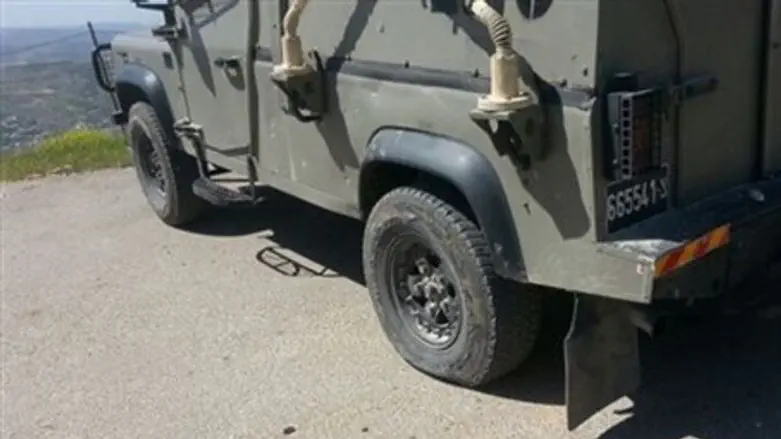 Yarom's jeep after tires punctured
IDF Spokesperson
The tires of an IDF vehicle were slashed again in Yitzhar on Monday night, in the second such attack in 48 hours. The news has prompted the IDF and police to open an official investigation over the 'price tag' attacks.
"The IDF takes these incidents seriously," an official told IDF Radio Monday night. "Any injury to army officers - regular or reserve officers - who are engaged day and night in defending the Jewish people is crossing a 'red line.'" 
On Sunday, the tires of IDF Samaria Brigade Colonel Yoav Yoram's tires jeeps were slashed. A suspect, 16, was arrested earlier Monday in Jerusalem. He learns in a yeshiva [Torah academy] in the Old City of Jerusalem but is suspected to be linked to Yitzhar, which is in Samaria.
The attack has been linked to local outrage in the community, after the IDF tore down a new house last week belonging to Avi and Shoshana Lazar. The Lazar family was due to move into their new home this week with five children.
Meanwhile, the Jerusalem Magistrate's Court sentenced the 16 year-old suspect in Sunday's attack to house arrest on Monday, for a five-day period. The teen was represented by attorneys Barak Friedman and Noam Lieberman, from the NGO rights group Honenu.
In his decision, the judge noted that although police had an arrest warrant for the minor on Sunday night, they waited well after midnight to make the arrest -and prevented the youth from seeing a lawyer until noon Monday. 
"However, in the long hours that have passed since his arrest until now, suspicions against the defendant has not intensified," the judge stated. "My conclusion is that the investigation against the suspect has actually weakened." 
Police have requested to extend the house arrest for seven days. However, the judge is not expected to do so - and the teen will be able to return home after just five days. Police have also requested to bring an appeal of the case to the District Court, but the minor will return home Monday night as planned.