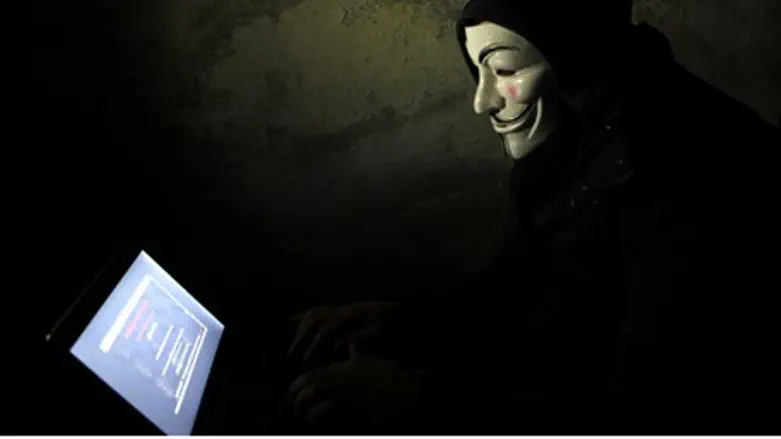 Hacker (illustrative)
Flash 90
The Arab branch of the hacker group "Anonymous" claimed to have brought down several Israeli news and governmental websites on Monday, after threats calling for a massive cyber-attack dubbed "OpIsrael" were made the day before, and in mid-March.
The April 7 date of the attack was timed last year to fall on the eve of Israel's Holocaust Memorial Day. This year, Holocaust Memorial Day, which is determined based on the Hebrew calendar, will be April 28. However, the hackers chose to ignore this and to recreate the attack on April 7. 
"Anonymous" claimed to have brought down several Israeli news and governmental sites Monday, as well as pro-Israel sites. However, most returned to normal functions after a very short time span.
While the group claimed to have brought down the news site Haaretz, a check revealed the site is functioning as normal. The Airports Authority site and Ministry of Education site were brought down for a short amount of time, but quickly returned to normal function. 
Last year, too, No governmental sites were brought down for any meaningful length of time, according to the Foreign Ministry.  
Anti-Israel hackers turned 'pro-Israel'
The anti-Israeli hackers on Sunday exhorted, "we urge our brothers and sisters to break, to destroy and take over websites and leak data - to eliminate Israel's cyberspace. We will not stop until Palestine is freed." 
However, Anonymous may have come out the worse for its attack on Israel. Roni Behar, chair of cyber-attacks at Avnet Cyber and Information Security, said Sunday that Israeli hackers are returning fire, breaking into Muslim extremist sites.
"In particular, it can be noted as a morale boosting achievement that there was a breach of the operations site run by Anonymous, www.opisrael.com, with the contents there being changed to pro-Israel contents," revealed Behar.
Exercise caution
The Israeli public has been advised to be particularly cautious in opening suspicious e-mails on Monday, not to click on suspicious links on Facebook with unidentifiable titles or attached videos, and not to open chain mails from unfamiliar sources.
Further, it is suggested to check credit card expenditures in the coming days to ensure that credit card information was not hacked into, and additionally to change passwords on social network websites such as Facebook and Twitter, making each password different.
According to reports, the groups leading the attacks include hackers from Palestinian Authority (PA) controlled areas, Syria, Iran, India, Malaysia and Jordan.
The Israel Electric Company (IEC) opened a new new state-of-the-art "Cyber Gym"last December, to train IT and infrastructure company employees to defend against cyber attacks.
Israel faces roughly 100,000 cyber attacks per day according to one expert's estimate. IEC's estimates are even higher: the company alone receives around 10,000 attacks per hour, reported IEC CEO Eli Glickman.