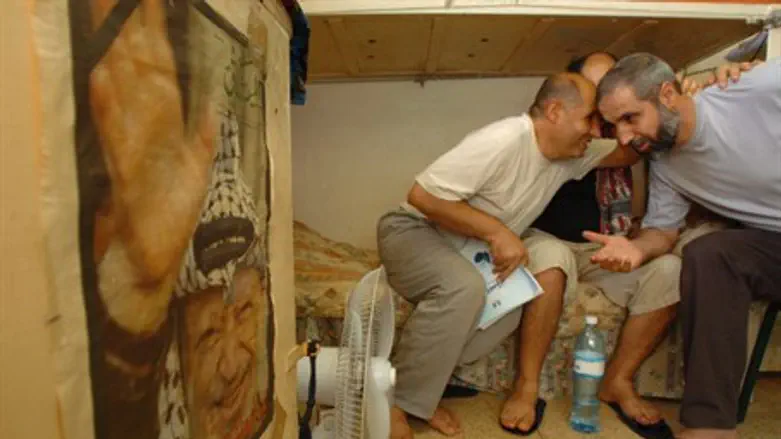 Terrorist prisoners
Israel news photo: Flash 90
A senior official in the Palestinian Authority (PA) declared on Friday that terrorists in Israeli prisons will begin protesting next week against Israel's decision to cancel the release of the fourth batch of terrorists, Kol Yisrael radio reported.
According to the report, Ziad Abu Ein, the PA's deputy minister of prisoner affairs, said that the imprisoned terrorists' protest measures will include an unlimited hunger strike.
Abu Ein further stated that the PA would make a series of steps that will unilaterally change the way it operates. He would not elaborate.
In recent years, Arab terrorist prisoners have turned hunger striking into a pressure tactic aimed at forcing Israel to release them out of fear for their lives.
Israel has several times in the past caved to the pressure and released some hunger strikers.
Abu Ein's comments came a day after Israel officially cancelled the fourth planned release of terrorists, after the PA violated the conditions of the peace talks by unilaterally turning to the United Nations and requesting to join 15 international conventions.
A senior PA official said Friday that PA Chairman Mahmoud Abbas had refused the request of U.S. Secretary of State John Kerry to withdraw the PA's appeal to over 15 international organizations for recognition.
The official told AFP that Kerry attempted to argue with Abbas, telling the leader that the step constitutes a provocation against Israel, but that Abbas ultimately refused to back down.
After it cancelled the fourth release, Israel also issued harsh sanctions on the PA over the bid for legitimacy.
Sanctions include a suspension of high-level contacts between ministers and CEOs, and any contacts with the PA will now be led by the Coordinator of Government Activities in Judea and Samaria, Maj. Gen. Yoav Mordechai.
The PA, meanwhile, issued a number of extreme demands against Israel, including the release of over 1,000 terrorists and a withdrawal to 1949 Armistice lines - essentially demanding concessions on all key issues before negotiations even continue.
(Arutz Sheva's North American Desk is keeping you updated until the start of Shabbat in New York. The time posted automatically on all Arutz Sheva articles, however, is Israeli time.)