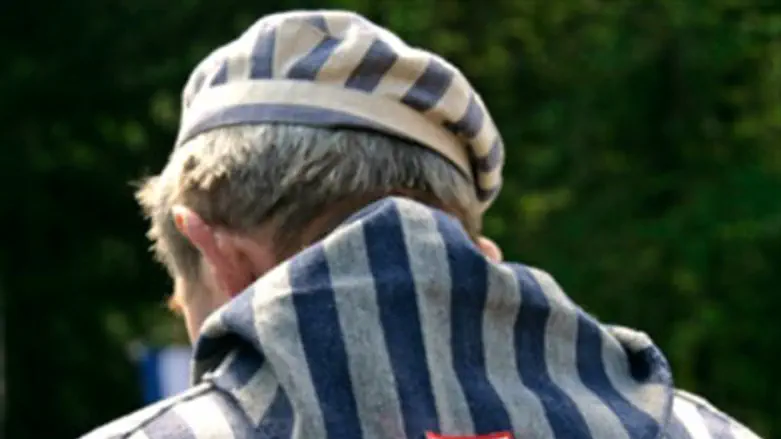 Holocaust prisoner
Thinkstock
Professor Gidon Greif, chief historian of the Shem Olam institute and an expert on the Holocaust and Treblinka, spoke to Arutz Sheva on Tuesday about the importance of the camp's excavation, as revealed last week. 
Professor Greif noted that excavations like these - which reveal the true horrors of the Holocaust - are extremely important for Jewish history and for the world to see, because Nazi Germany made sure to hide their role in the atrocities as much as possible.
"Every document, every tallit [prayer shawl], every tefillin [phylacteries] found becomes hugely important," Greif stated. He noted that almost one million Jews were murdered in Treblinka - and that the creulties at the camp were extreme. 
The Nazis bulldozed Treblinka in 1943, after several brave Jews attempted to revolt against their Nazi oppressors, Greif noted. As such, the camp was hidden - its full atrocities unknown - until now. 
The difference between Treblinka and other camps - e.g. Auschwitz and Majdanek - is that Nazi Germany was left without time to hide all of the evidence. Russian forces approached both camps sooner than the Germans expected, according to Greif, leaving the horrors of the concentration camps exposed for the world to see.  
These excavations, therefore, set a precedent, according to the professor. Greif predicted that the finds could spark a movement to perform more excavations across Poland, and reveal the full and chilling past of the European country.
Professor Greif noted that excavations have also been carried out at Belzec.
"The finds there [at Belzec] are very important," Greif stated. "The ground will not swallow the remains and Nazi Germany's crimes not be blurred, to disappear forever."
"This is also what the victims ask of us: to talk always about what they [Nazi Germany] did so that the crimes do not become obscure,
 he continued. "The truth is the strongest witness." 
Professor Greif ended with praise for the Polish government for allowing the excavations to take place, to exposing the area's true history without letting the past turn into rubble. According to Greif, the Jewish people should be grateful for the chance to see what really happened, and thank the Polish government.  
Unfortunately, however, the professor believes that the find will not deter Holocaust deniers. - who would make claims against the Jewish people, even based on little to no evidence. "If they didn't know better, they would not make such efforts to deny it," he stated.