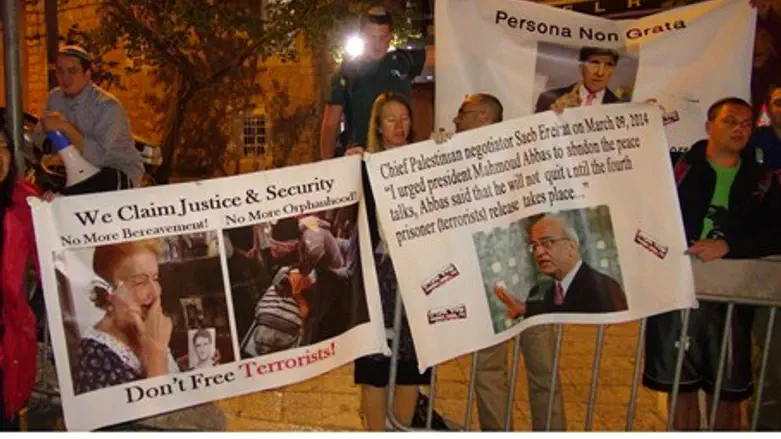 Protest against Kerry Monday night
Hezky Ezra
Members of families who have lost loved ones to terror attacks protested on Monday night outside the Metzudat David Hotel in Jerusalem, where US Secretary of State John Kerry is staying the night.Kerry arrived in Israel Monday on an "emergency trip," in yet another attempt to save the failing peace talks between Israel and the Palestinian Authority (PA).
The sudden visit was revealed to AFP by State Department Spokesperson Jen Psaki. Kerry was reportedly considering the visit while in Paris on Sunday, and later Sunday night called Prime Minister Binyamin Netanyahu in what apparently was an effort to coordinate the last-minute visit.
Lizzy Hameiri, an organizer of the protest, told Arutz Sheva that she and her friends had decided to protest, in order to make it clear to Kerry that he was "not wanted" in Israel so long as he is trying to persuade the government here to release terrorists.
Israel agreed to release about 100 terrorists last summer, as a "concession" to persuade Palestinian Authority chief Mahmoud Abbas to resume peace talks after a three year hiatus. The last batch was set to be released Saturday night, but Netanyahu, apparently under pressure from his ministers, postponed the release.
"We are in the midst of a struggle that has been going on for nine months," said Hameiri. "Every time Kerry comes here we feel as if he is preparing to bring a tragedy on us. Kerry is putting fear in our hearts. The least we can do is protest against him."
Earlier, reports said that Kerry and US President Barack Obama had agreed to release Jonathan Pollard as part of the deal to release the terrorists. The Whte House on Monday night said that nothing ad changed in its policy on Pollrd, and tahat there were no plans to set him free.