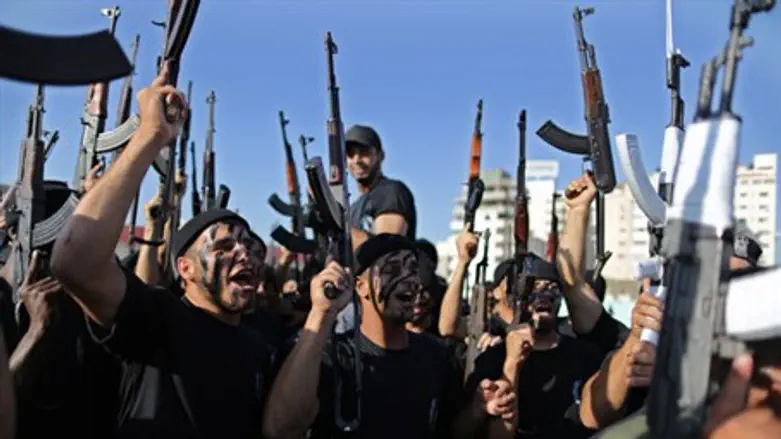 Hamas police in Gaza (file)
Flash 90
Hamas, the terrorist group governing Gaza, has replaced a nearly 80-year-old law with a harsh new one based on Sharia Islamic law. The new rules stipulate severe punishments such as lashes and amputations.
Faraj Al Ghoul, Legal Department head of Gaza's Palestinian Legislative Council, announced the Gazan parliament will put the new law into effect, replacing Ordinance Number 74 that has been on the books since 1936. The ordinance, which was part of the British Mandate Criminal Code, outlawed same-sex acts between men.
A senior Hamas official told United Arab Emirates-based Gulf News that the old law needed replacing for being "impractical," adding that the new law, "which is inspired by" Sharia, was drafted to stem the spread of crime.
Under the new law, minor offenses bear a minimum of 20 lashes, while criminal cases require a minimum of 80 lashes. Usage of the death penalty is also expanded under the new Sharia-compliant law, which includes two articles that order a thief's hand to be cut off, and that repeat offenders serve at least seven years in jail.
The harsh new laws have not been looked upon favorably by rival groups. The terror group Popular Front for the Liberation of Palestine (PFLP) slammed the law, saying "penalties like lashing are not compatible with Palestinian society, which is a multicultural society."
PFLP called on a unity of the various factions to make laws, arguing "Hamas' attempts to pass its new punitive law in Gaza are illegal as the Palestinian Legislative Council's term has already expired and it is therefore not authorized to issue such a law." The last elections for the Council were held in 2006.
The rival terror group also warned the new law will "perpetuate the Palestinian internal split," going on to accuse Hamas of "failing for eight consecutive years" to prevent Gaza's "continuous crisis" of poverty, unemployment and delayed payment of public workers' salaries.
Despite the reported hardships, Palestinian Authority Chairman Mahmoud Abbas's Fatah faction charged that there are 1,700 millionaires in Gaza, hinting at widespread corruption.
Hamas has already frequently used the death penalty, hanging one man charged of "collaboration" with Israel last December, and hanging two others last July for the same charges.