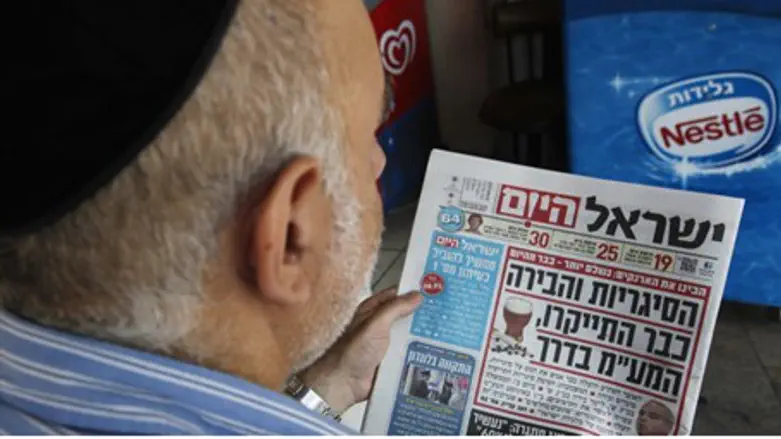 Man reads Israel Hayom
Flash 90
Economy Minister and Jewish Home chairman Naftali Bennett on Sunday criticized the Israel Hayom newspaper and referred to it as "Pravda" – a reference to the press organ of the communist party in the Soviet Union, which was famous for its lies in the service of a dictatorial government.
The comments were made in an interview with Army Radio, in which Bennett was asked for his opinion regarding the approval of the sale of failing newspaperMakor Rishon and the news website NRG to billionaire Sheldon Adelson, who also owns Israel Hayom and who is considered to be a friend and supporter of Prime Minister Binyamin Netanyahu. Israel Hayom openly supports Netanyahu, resulting in criticism from the mainstream left-wing media.
"It saddens me," said Bennett of the sale of Makor Rishon, which has taken a national religious line.
"Israel Hayom is not a newspaper. It is Pravda," declared Bennett. "It's the mouthpiece of one person, the Prime Minister. At every junction point, every point of friction between the national interest and the interest of the Prime Minister, they chose the side of the Prime Minister. I very much hope that Makor Rishon will be allowed to continue to hold an independent nationalist position."
Israel Hayom has been targeted by a new Knesset bill which would attempt to force the paper, which is currently distributed free of charge, to charge money, thus making it less popular and influential.
The Jewish Home party co-signed the bill that limits the nationalist paper, reportedly to put pressure on Netanyahu.
Bennett's comments echo similar one made by Foreign Minister Avigdor Liberman several months ago.
Liberman, who heads the Yisrael Beytenu faction within the joint Likud/Yisrael Beytenu list, also referred to Israel Hayom as "Pravda", saying in an interview, "This is a newspaper that represents interests only, and no ideology."
Liberman was incensed at the time by a report in Israel Hayom regarding the race for the mayor of Jerusalem, and he accused the newspaper of serving the interests of mayor Nir Barkat.
"If it looks like a spin, sounds like a spin and smells like a spin – it is a spin," Liberman said. "If you take into account that it was published in the Pravda Israel Hayom newspaper, then it is obviously spin from the Barkat staff."
MK Robert Ilatov of Liberman's Yisrael Beytenu party is one of the MKs signed to the new bill that would limit Israel Hayom.