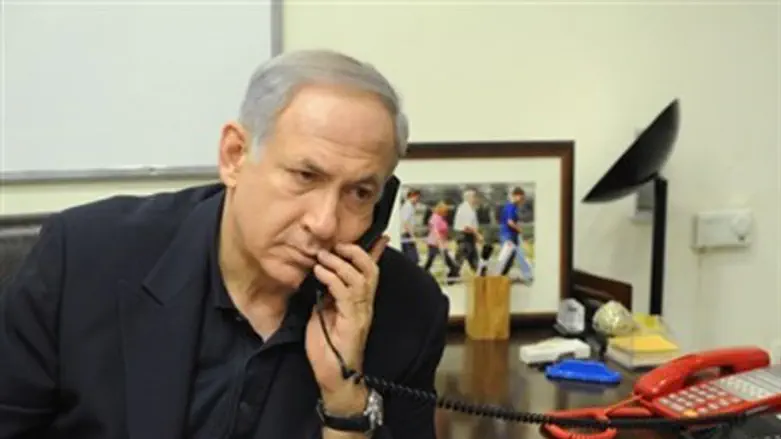 Binyamin Netanyahu
Flash 90
The pan-Arab London-based newspaper Al-Hayat has reported that Prime Minister Binyamin Netanyahu told US Secretary of State John Kerry that his governing coalition may fall apart if Israel goes ahead with the fourth planned tranche in the terrorist release that it agreed to as a "goodwill gesture" toward the Palestinian Authority.
Al-Hayat said that Kerry has asked PA chairman Mahmoud Abbas to extend negotiations even if Israel fails to release additional terrorists. Abbas, for his part, told Kerry he would not discuss continuing negotiations until the terrorists are freed, including 14 Israeli Arabs.
According to another report, Prime Minister Binyamin Netanyahu refuses to release any more terrorists until the PA recognizes Israel as a Jewish state.
The leadership of Hamas said that Israel's refusal to carry out the fourth tranche is "a ringing slap in the cheek" to the PA. Hamas said that the way to free terrorist prisoners is by abducting Israeli soldiers – and not in a deal that involves a PA commitment not to take action against Israel in the UN.
Minister of Transport Yisrael Katz (Likud-Beytenu) noted with satisfaction Saturday night that the date set for freeing the fourth and final tranche of Palestinian Arab terrorist prisoners has passed without them having been released.
"We passed the set date yesterday and no terrorist wasd freed," he said. "Not [Marwan] Bargouti, not the Israeli terrorists and not the rest of the terrorist murderers.
"Jew-killers belong between the crosshairs of a gun, and if not that – then in jail," he stated.
The PA said Friday that Israel would regret its decisionnot to go through with the release of the fourth batch of terrorists it undertook to release as a "gesture" to the PA.
Fatah official Hazem Abu Shanab told the PA-based Ma'an news agency that the release of the final group of terrorists would be pivotal in determining the future of Israeli-PA relations. He added that the international community will be inclined to hold Israel responsible for hindering the peace process.