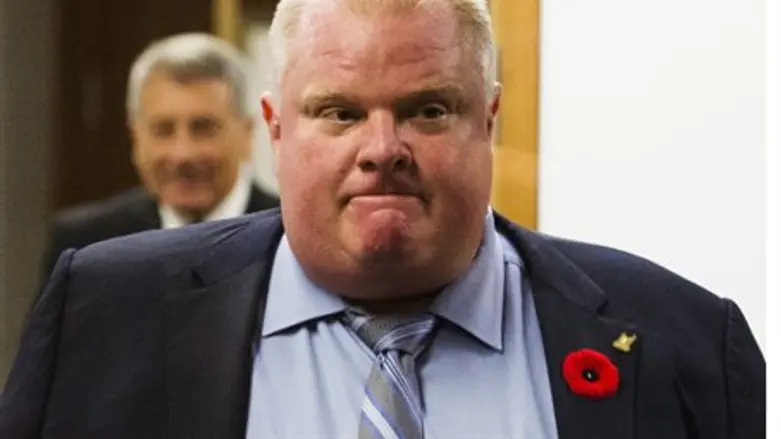 Rob Ford
Reuters
New police documents, cleared for release by a local court this week, have shed new light on troubled Toronto Mayor Rob Ford's close relations with the drug underworld. Undaunted, Ford still claims to be the "best mayor" Toronto ever had.
The documents deal with a drug cartel operating in western Toronto, an showed at least several members had close ties with Ford and his occasional driver Alexander Lisi, who was indicted of extortion threats and drug trafficking last October, reports Shalom Toronto.
According to the documents, Lisi contacted the drug dealers who were in possession of a video showing Ford smoking cocaine. He offered them a deal, by which they would hand over the original copy of the video, and in return he would give the a bag of marijuana.
No less than seven conversations held by Lisi to try and seal the deal were intercepted and transcribed by Toronto police. In one, Lisi responded threateningly after it became clear members of the drug ring stole Ford's phone while he was with them.
"In one of the communications Lisi threatened to 'heat up' the Dixon cartel, hinting he would bring the police to the neighborhood of Liban Siyad if he didn't return Ford's telephone," reports the police document.
After the call, police located a call made by the drug dealer: "Siyad, talking about the conversation with Lisi, told his friend: 'you want threats, you'll get threats. I have the (expletive) picture of Rob Ford with a crack pipe,' to which his friend responded: 'we have lots of pictures of Rob Ford in different situations, but we're not saying a word about it.'"
"I'm the best mayor the city's ever had"
However, the evidence has not put a damper on Ford apparently. The mayor appeared at Ryerson University on Thursday for a debate as part of his mayoral campaign.
In response to a question about his contact with drug dealers, Ford remarked "I don't condone drug dealers. I don't condone crack cocaine. I don't condone that stuff. But you know what...I condone being the best mayor the city's ever had."
The response was met with laughter from the audience, reports the Toronto Sun.
Maybe guilty of many things, but not beating his brother-in-law
Legal efforts are aiming to obligate the police to present to the public the video of Ford smoking from a crack pipe and cursing in the company of drug dealers.
One development has gone in Ford's favor however: an official document has negated the complaint filed by his former brother-in-law Scott MacIntyre, claiming Ford ordered him to be beaten while he was under arrest. MacIntyre had sued for $1.5 million in damages.
Investigations revealed MacIntyre was injured during a skirmish with another prisoner; the fight stemmed from both men wanting to read a newspaper first.