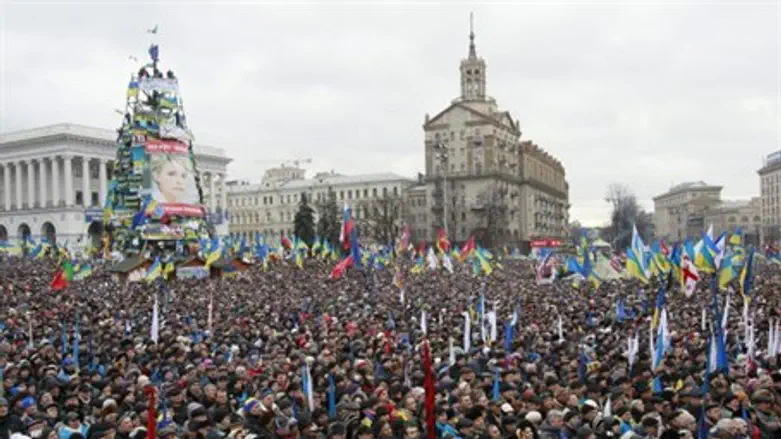 Huge Kiev rally
Reuters
Vadim Rabinovich, president of the All-Ukrainian Jewish Congress and founder of the European Jewish Parliament, announced on Tuesday that he will run for the presidency of Ukraine, reports the Jewish Daily Forward.
According to the report, Rabinovich told the Russian Interfax news agency that he was running to "destroy the myth about anti-Semitism in Ukraine."
In recent months, Russian officials, including President Vladimir Putin, have accused groups that overthrew Ukraine's former president, Viktor Yanukovych, of being fascists and anti-Semites.
The elections in Ukraine are scheduled for May 25.
As the situation in Ukraine has escalated, several anti-Semitic attacks have been reported in the country.
A synagogue was firebombed in late February by unknown assailants, and at least one synagogue in Crimea has also been defaced. 
In January, unknown assailants stabbed a hareidi man in Kiev as he was making his way home from synagogue on a Friday night.
Rabinovich himself was targeted in an assassination attempt in central Kiev in March of last year, when a bomb was hurled at his car as it pulled out from an office courtyard. He escaped unharmed
Recently, however, Rabinovich put out a statement denying that anti-Semitism was on the rise in Ukraine, according to the Jewish Daily Forward.
"Attempting to fan the flames around this issue is a provocation and is not conducive to a peaceful life of the Jewish community in Ukraine," he said, according to the report.
Leaders of the Jewish community in Ukraine last week assured Knesset Speaker MK Yuli Edelstein (Likud-Beytenu) that "there is tension in the air but no Jew is hiding his Jewishness or hiding out. While there are anti-Semitic manifestations, there is no systemic anti-Semitism. Nor do we feel more threatened after the revolution."