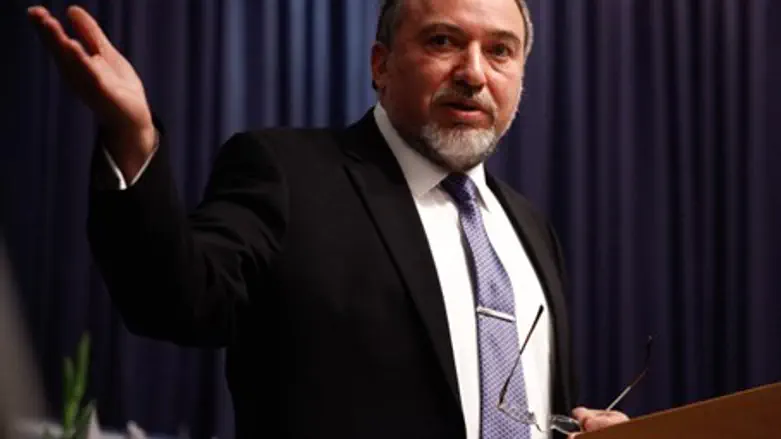 Avigdor Liberman
Flash 90
Foreign Minister Avigdor Liberman (Yisrael Beytenu) held a press conference on Tuesday, where he slammed the Foreign Ministry Employees' Union for staging a global strike over working conditions. 
"[The strike] has crossed some red lines and caused damage to the Foreign Ministry," Liberman stated. "What is happening today is that [the strike] harms the poor, who lost passports and can not go back; infants who need to return to the state of Israel; and we cannot return the bodies of people who died abroad. This harms our good name." 
He also believes that the strikes have been getting out of hand. 
"[They] are allowed to strike, but not to show verbal and physical violence," Liberman fired. "I saw a senior employee in our legal office in tears, after protesters cursed and threatened her."
"I am the foreign minister, and I have made more achievements in this office than previous ministers," he added. "I was with the workers as long as they were not breaking the law, but now I turned to the judge for mediation."
Retired Judge Steve Adler, a mediator in the conflict between the Foreign Ministry employees and the state, has responded Tuesday afternoon by immediately recommending that mediations be resumed to bring the conflict to a close. 
"I have concluded that there is good reason to invite leaders of both sides of the dispute to an urgent meeting for mediation," Judge Adler stated. "Given the tremendous damage caused by the Foreign Ministry strike, there is an obligation on representatives of both sides to hold a mediation meeting today."
This is the latest development in the Foreign Ministry strike, which was announced on Sunday. Foreign Minister Avigdor Liberman (Yisrael Beytenu) has reiterated multiple times that he does not support the strike in his office, and has deemed the fully-fledged protest "irresponsible."
The strike has been the source of some controversy, after the Finance Ministry claimed that the Foreign Ministry workers actually make very high salaries for Israeli employees. The Foreign Minister's union has fired back, calling the data "illusory." 
Meanwhile, concerns have been raised over the effects the strike could have on Israeli diplomacy, as several important diplomatic visits have already been cancelled or postponed. 
Striking at the Foreign Ministry Flash90