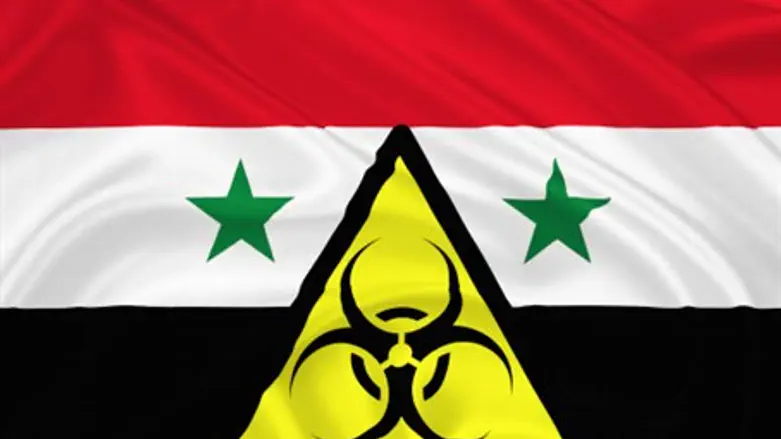 Syria chemical weapons (illustration)
Thinkstock
The Organization for the Prohibition of Chemical Weapons (OPCW) reported that roughly half of Syria's chemical weapons arsenal has been removed from the war-torn nation. The announcement came the same day that the Syrian army maintained its belligerent stance, conquering a Crusader castle.
Over the past week three consignments of "Priority 1" and less lethal "Priority 2" chemicals were shipped from the Latakia port by OPCW, the last shipment taking place on Thursday, reports BBC.
OPCW noted that 49.3% of Syria's chemical weapons have been removed. Breaking down the figures, the group reports 34.8% of Priority 1 chemicals and 82.6% of Priority 2 chemicals have been removed. Further, all of the country's sulphur mustard, which is a blister agent, has been shipped out.
The entire arsenal is scheduled to be removed by June 30, according to the group.
However, deadlines have in the past slipped by amid the tense war situation. For example, the March 15 deadline to destroy 12 declared chemical weapons production facilities was was missed.
Syria also missed the December 31 deadline on removing Priority 1 chemicals, as well as the February 5 deadline for Priority 2 chemicals. After missing the later deadline, Syria submitted a new 100-day plan to remove its arsenal.
Syria conquers Crusader castle
Meanwhile Syrian President Bashar Assad has been unperturbed by world condemnation over the bloody three year civil war he is waging, and has been consolidating his victories against opposition forces.
The Syrian army captured a 12th century CE Crusader castle near the Lebanese border on Thursday, reports Al Jazeera. The fortress, Crac des Chevaliers, is on the UNESCO World Heritage site list.
Reports have revealed that Assad has used an iron fist in putting down his opponents, committing war crimes by employing systematic torture.