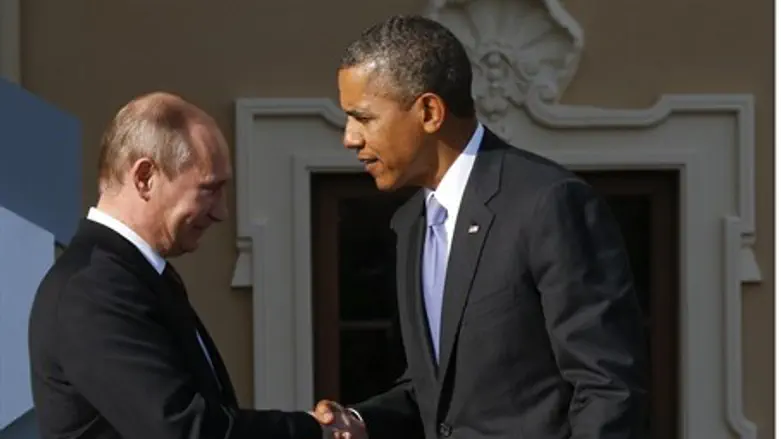 Obama and Putin (archive)
Reuters
U.S. President Barack Obama on Thursday slapped sanctions on top Russian officials, and Russian President Vladimir Putin retaliated by hitting top U.S. officials with sanctions of his own.
Fox News reported that Russia's newest sanctions bar nine American officials from entering Russia. The list includes House Speaker John Boehner, R-Ohio; Senate Majority Leader Harry Reid, D-Nev.; and Sen. John McCain, R-Ariz.
The Russian sanctions were announced moments after Obama imposed penalties on 20 Russians inside and outside the government over the crisis in Ukraine.
Just as Putin's government shrugged off U.S. sanctions earlier in the week, so did the Americans targeted by Moscow.
"I guess this means my spring break in Siberia is off, my Gazprom stock is lost, and my secret bank account in Moscow is frozen," McCain quipped in a statement quoted by Fox News.
"Nonetheless, I will never cease my efforts on behalf of the freedom, independence, and territorial integrity of Ukraine, including Crimea,"  he added.
Boehner spokesman Michael Steel said the speaker "is proud to be included on a list of those willing to stand against Putin's aggression."
Putin's move is in line with a report earlier this week on U.S.-based website The Hill, which said that Putin would ban several U.S. senators and officials from visiting Russia.
McCain responded to that report as well by saying he expected to be sanctioned by Russia, and then shrugging it off.
"I guess I'm going to have to try to withdraw my money from my secret account in St. Petersburg," he joked.
As each side imposes sanctions, left unclear is whether any of them will have an effect on the standoff over Russia's widely challenged annexation of Crimea.
Obama, warning of more costs to come for the Kremlin if the situation worsens, said he also signed an executive order that would allow the U.S. to penalize key sectors of the Russian economy.
Officials said Obama could act on that authority if Russian forces press into other areas of Ukraine, an escalation of the crisis in Crimea.
Putin has repeatedly ignored Obama's calls on him to end his incursion into Ukraine. On Monday, Putin released an official statement recognizing Crimea as a "sovereign and independent state", after a controversial referendum vote in the peninsula showed overwhelming support for Moscow over Ukraine.  
On Sunday night, hours after the referendum, Obama phoned Putin and warned him that the results of the referendum in Crimea would never be recognized by the United States or its allies.
Republicans have criticized Obama for his handling of the Ukraine crisis, saying that his "feckless" policy encouraged Putin to invade Ukraine.
Obama, in an interview Wednesday, effectively ruled out U.S. military action over Crimea. He and top officials, though, continue to assure NATO allies in the region that America's support is "unwavering."
Obama stressed Thursday that "diplomacy between the United States and Russia continues,"  according to Fox News.
Meanwhile on Thursday, the European Union announced that it has slapped sanctions on 12 more people linked to Russia's annexation of Crimea from Ukraine, bringing the number of people facing EU sanctions to 33.
The 28-nation bloc did not immediately release the names of those it had targeted with travel bans and asset freezes, but they are expected to close in on members of Putin's inner circle to punish him in the escalating Ukrainian crisis.