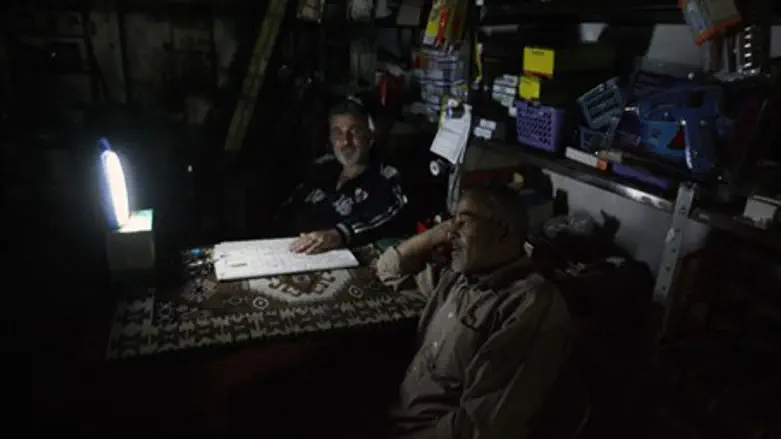 Gaza power outage (file)
Flash 90
Gaza's lone power plant shut down on Saturday due to a lack of fuel. An Israeli official stated the fuel shortage was caused by infighting between Hamas, ruling Gaza, and the Palestinian Authority (PA) in Judea and Samaria, likely over fuel taxes.
The Hamas-run enclave has been dealing with rolling power outages since last November. An Egyptian siege cutting smuggling tunnels transporting fuel from Sinai, coupled with high PA taxes that Hamas refuses to pay on fuel coming through Israel, has led Gaza to shut down the plant frequently.
Gaza's terrorist rulers were quick to blame Israel for the power outage, reports AFP. They pointed the finger at Defense Minister Moshe Ya'alon's order to close the Kerem Shalom crossing and Erez pedestrian crossing Thursday, "until further security assessments."
The closure followed a barrage of roughly 100 rockets since last Wednesday. The deluge of rockets was the largest-scale attack since the 2012 Operation Pillar of Defense.
However, an Israeli official cut through the accusation, noting "Kerem Shalom is always closed on Fridays and Saturdays, so it was only closed for an entire day on Thursday."
The official argued that the shortage in fact occurred as "the result of an internal conflict between the Hamas government and the Palestinian Authority in Ramallah."
While Israel's one day of closure may not have cut power to Gaza, MK Shuli Muallem (Jewish Home) last Wednesday called on Israel to do just that, and leave Gaza in darkness in response to the unprecedented attacks.
"I call on the Israeli government to adopt a resolution - for every rocket fired towards southern Israel, Gaza will receive an hour of darkness," declared Muallem.
Aside from the animosity with the PA, Hamas has run afoul of the Egyptian government as well, being banned by the Nile state two weeks ago.
The tension was illustrated last week when Hamas was left fuming after Egypt contacted the terror group Islamic Jihad directly to try and broker a ceasefire with Israel, while intentionally ignoring Hamas.
The "ceasefire" was quickly broken at least six times by the Gaza terrorists between last Thursday and Friday.