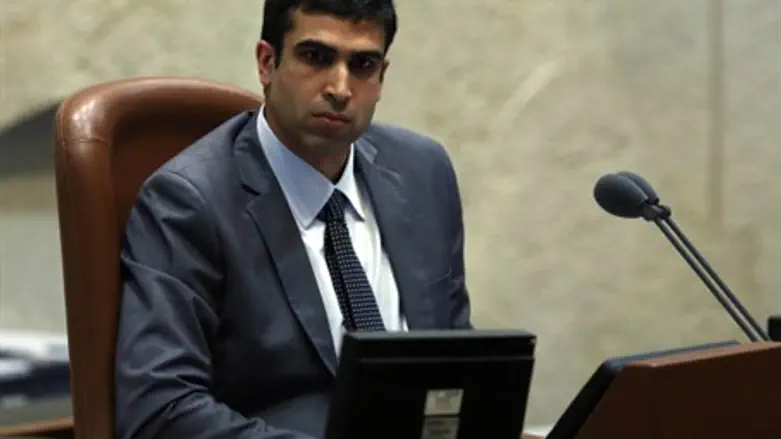 MK Yoni Chetboun
Flash 90
MK Yoni Chetboun of the Jewish Home party caused consternation in the Coalition this week with his surprise decision to vote against the Enlistment Bill. He was disciplined by his party for going against an agreement to support the bill together.
Now Chetboun has received a show of support from several leading religious-Zionist rabbis – rabbis who support IDF service, but believe Chetboun did the right thing in voting against the bill requiring hareidi men to enlist.
Rabbi Shmuel Eliyahu, who is chief rabbi of the city of Tzfat; Rabbi Elyakim Levanon, who is chief rabbi of Samaria (Shomron); and Rabbi Nahum Nerya, who heads the Torah B'Tzion yeshiva, all expressed support for Chetboun on Thursday.
The three signed on to an advertisement in Arutz Sheva's weekly paper, B'Sheva, saying, "To the (reserves) Major decorated by the Chief of Staff Citation, who loves the land and the nation, the Torah and its scholars, the honest man, MK Yoni Chetboun – something real is beginning."
The advertisement concludes, "Hazak v'ametz," a traditional blessing for strength to continue in the same path.
The phrase "something real is beginning" is a play on the Jewish Home's campaign slogan in the last election, "something new is beginning."
Chetboun explained Tuesday that he decided to vote against the Enlistment Bill due to his concern that it would create a rift in Israeli society.
Chetboun also argued that the bill was part of a wave of anti-religious legislation pushed forward by the Yesh Atid party, and that it would be used as a tool to attack the hareidi community.
Rabbi Shmuel Eliyahu was among a group of religious-Zionist rabbis who said they would attend a massive hareidi protest against the Enlistment Bill. Other religious-Zionist rabbis objected, arguing that Zionists should not take part in what could be perceived as a protest of IDF enlistment.
The religious-Zionist community believes Jewish men have a mitzvah (Torah command) to enlist in the IDF. The hareidi community largely believes that it is better for men of enlistment age to engage in full-time Torah study, and that their Torah study provides spiritual merit that leads to increased physical safety for the entire nation.