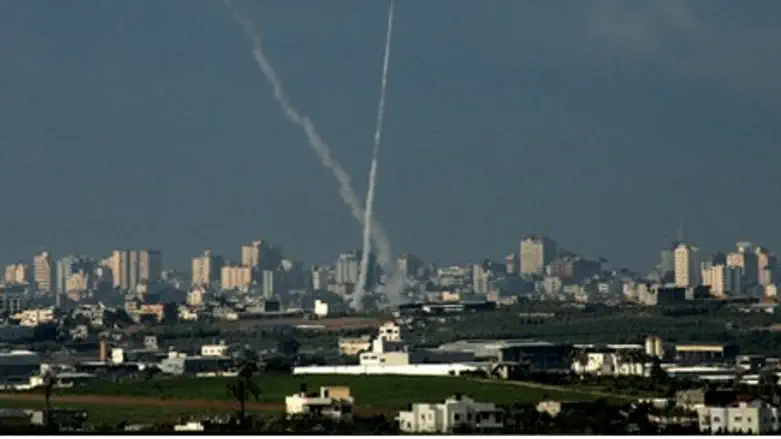 Rocket fire on Ashkelon and Ashdod
Flash 90
Gaza terrorists fired two rockets early Thursday evening at the Hof Ashkelon area, south of the city of Ashkelon on the Mediterranean coast. No one was hurt and no damage was reported.
While largely inaccurate, rockets fired from Gaza are meant to terrorize and humiliate Israel's populace, and send hundreds of thousands of men, women and children scurrying for shelter.
The Air Force hit several terror targets in Gaza on Thursday afternoon, following a wave of rocket attacks on southern Israel on Thursday morning. Israel denied Gaza terrorists' claims that a ceasefire had been successfully negotiated.
IAF commanders reported that all warplanes involved had returned safely to their bases.
"The IDF will not tolerate any attempt to harm Israel's citizens or soldiers, and will continue to take determined action against any party that uses terrorism against the state of Israel," IDF spokespeople said.
The IAF previously hit dozens of terror-linked targets late Wednesday night, following a day in which Gaza terrorists launched roughly 90 rockets at Israel. Just under 60 hit southern Israel, while the rest apparently struck within Gaza.
At the same time that the IAF announced it had carried out further strikes, Islamic Jihad declared a ceasefire. A spokesman for the terrorist group told AFP, "An Egyptian-brokered truce went into effect at 2 p.m."
However, Israel denied this claim. Israeli sources said only that "quiet will be answered with quiet."
The Islamic Jihad's announcement followed a Hebrew-language video message by the Iranian-backed group warning Israel against any further military responses to last night's rocket attacks. Following Prime Minister Netanyahu's promise to respond forcefully, several senior government officials have publicly suggested that the only real solution would be to reconquer Gaza.
Also last night, Defense Minister Moshe Yaalon last night promised to make Islamic Jihad "regret" its actions.
But so far the Israeli response has been relatively limited.
Israeli sources did not confirm a ceasefire. Israeli leaders had previously told Gaza terrorists that any ceasefire on their side would be met with an Israeli ceasefire, but that further attacks would be met with attacks.
Islamic Jihad has claimed responsibility for all the recent rocket fire on Israel.