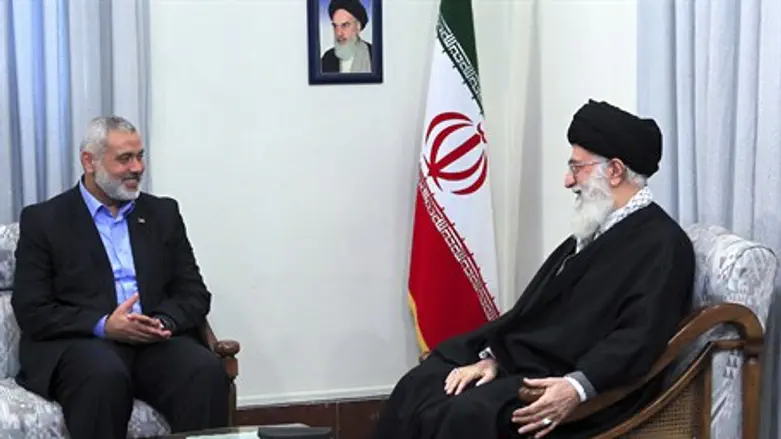 Hamas leader Ismail Haniyeh with Ayatollah Al
Reuters
Hamas announced renewed diplomatic relations with Iran on Tuesday, less than 24 hours after Israel broadcasted the list of contents of the Islamic Republic's weapons shipment to Gaza. 
"The Hamas movement and Iran have taken special measures and we will see many changes in these relations soon," senior Hamas official Mahmoud Al-Zahar announced Monday.
Semi-official Fars​ news agency noted that the announcement came just two days after Iranian Parliament Speaker Ali Larijani announced that Iran's relationship with the terror organization had begun to normalize. 
When asked about the Iranian announcement, Al-Zahar reportedly responded, "This stance was predictable and expectable from the Islamic Republic of Iran [...] it has not surprised Hamas."
He added that the purpose of the Klos C weapons ship seizure was "creating a rift between Iran and the Palestinian resistance movement and exerting excessive pressure on the Hamas movement."
Both Iran and Hamas have denied their connection to the weapons ship, which the IDF raided in the Red Sea on Wednesday. The ship, bearing Panamanian flags, also bore Iranian documents proving the cargo was bound from Bandar Abbas, Iran, to Port Sudan; the missiles, ammunition and other arms were then to be smuggled from Sudan into Gaza via the Sinai desert. 
Ties between Iran and Hamas have wavered back and forth over the past several months. Iran, which supports Bashar al-Assad in the Syrian civil war, reportedly punished Hamas for their support of the rebels by making a meaningful cut in its aid to Gaza.
As the rift between the sides deepened over the war in Syria, a senior Hamas official claimed that the terror group will not do Iran's bidding in any war with Israel.
Nevertheless, senior Hamas official Mahmoud al-Zahar claimed in December that the terrorist group had "resumed" relations with Iran after a temporary falling out over the Syrian conflict.