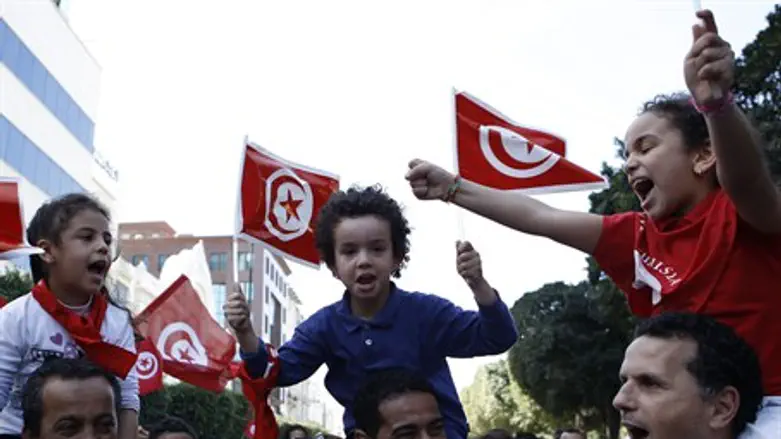 Rally in Tunis
Reuters
Israeli tourists aboard a cruise ship were prevented from entering Tunisia, where the ship made a stop, due to a surprise decision by the Tunisian government, the cruise operator said on Monday, according to AFP.
"During Norwegian Jade's port call in La Goulette, Tunisia on Sunday, March 9, 2014, a small number of guests holding Israeli passports were not allowed to go ashore because of a last minute decision made by the Tunisian government," the Miami-based Norwegian Cruise Line said in a statement quoted by the news agency.
"We apologize for any inconvenience to our guests and appreciate their understanding. We are reviewing this decision with the appropriate officials," it said, adding that it would refund port taxes to the guests.
A tourism ministry official said the visitors were prevented from disembarking because of "a procedural problem," saying they did not have visas.
The interior ministry could not immediately be reached for comment.
The issue of relations with Israel is a taboo subject in Tunisia, as it is in other Arab countries. In January, the country's Tourism Minister Amel Karboul was forced to resign hours after being sworn in, over a trip she had made to Israel for professional reasons.
Tunisia hosted the Palestine Liberation Organization (PLO) after its 1982 expulsion from Lebanon and until after the signing of the Oslo Accords.
In 1996, Tunisia and Israel opened interest sections in each other's country, but Tunis froze relations in 2000 in protest at Israel's response to the Second Intifada, also known as the Oslo War.
After the ouster of former president Zine El Abidine Ben Ali, the Islamist Ennahada party, which won the country's first free and competitive elections, rejected outright any normalization of diplomatic ties with Israel.
The cruise incident comes just one week after a group of Israelis who were making their way to India found themselves for a short time in Tehran.
The incident occurred when a Turkish Airlines flight, which made its way from Istanbul to Mumbai, was forced to make a temporary landing in Tehran when one of the passengers suffered a heart attack and required medical treatment on the ground.
After the patient, who was not an Israeli, was treated, the plane continued on its way to India.