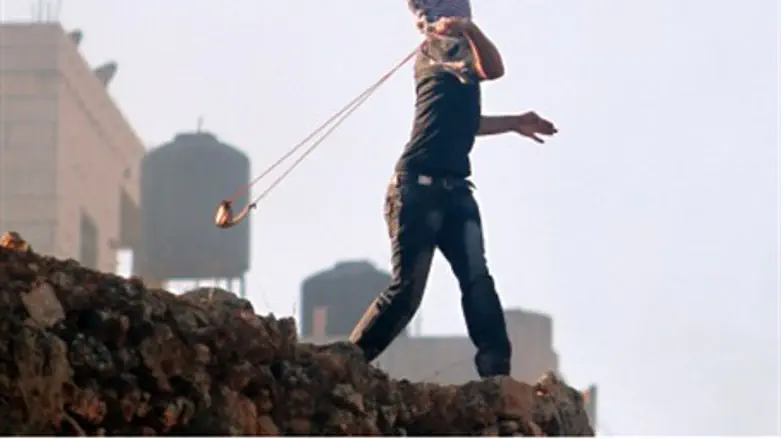 Arab rock thrower (illustration)
Flash 90
An IDF force lying in ambush shot dead an Arab terrorist who was preparing to throw rocks at Israeli cars traveling on Road 60, north of Jerusalem. The incident took place near Givat Asaf, in the Binyamin region, on Monday evening.
The ambush was placed following an uptick in the number of similar attacks as of late. It is too early to say whether it signals a change in IDF policy toward rock throwers, but the military action appears to be a departure from the policy of the last few years, which has been marked by extreme hesitance to use deadly force against rock and firebomb throwers.
"Central Command and the Judea and Samaria theater have turned into a Russian roulette in the last few months, in which the lives, health and dignity of soldier and civilians hang in the balance, while Palestinian marauders enjoy near complete immunity in what an only be described as operational recklessness," wrote a political activist and reservist combat soldier in November.
Erez Tadmor explained that a Jewish man was gravely injured by Arabs in the course of a protest by residents of Talmon and Neria, despite the presence of four armed soldiers. The soldiers' presence does not guarantee the safety of civilians, he said, "especially when they are afraid to exit their rock-proofed vehicle, for fear that they will have to open fire and will face the real threat: the possibility of being put on trial."
Despite largely being played down by much of the media, rock attacks against speeding cars - usually involving large rocks, bricks or chunks of concrete - are potentially lethal.
Several Israeli civilians have been murdered in such attacks, including baby Yonatan Palmer and his father Asher.
Only a few months ago a two-year-old girl, Avigail Ben-Tzion, suffered serious head injuries in an attack in Jerusalem. That attack bore chilling echoes of a previous attack targeting a family in which another infant girl - three-year-old Adelle Biton - was left in a critical condition by Arab rock-throwers. Adelle is still struggling to recover from her injuries.