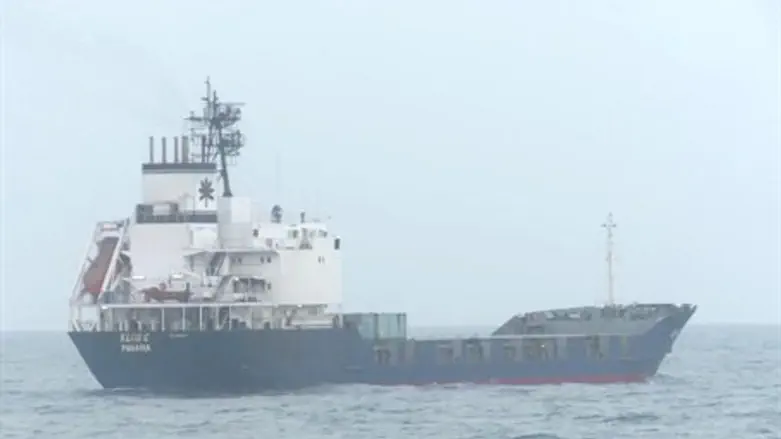 Klos C Weapons Ship
IDF Spokesperson's Office
Brigadier-General (reserve) Shlomo Brom, a researcher in the Institute for National Security Studies (INSS), told Arutz Sheva Saturday that the capture of the Klos C arms ship is a model of operational excellence for Israeli intelligence. 
"This is a dramatic and impressive event," he stated. "Iran should be very worried. Once again, it has turned out that the Israeli intelligence reaches everywhere. It will certainly make things more difficult for Iran in the future."
The missiles that the ship was carrying would have endangered the entire central region of Israel, he explained. "These rockets have a warhead that can hit any place in south-central Israel [if fired from Gaza], much greater than the Grad Katyushas. These rockets are fired from a vehicle with a launcher and they can reach a range of 200 kilometers – all the way to Hadera.
The diplomatic meaning of the operation is being slightly overrated, however, according to Brom. "They are slightly overdoing it as regards the political significance – as if we have uncovered the true face of Iran, which is deceiving the world," he elaborated. "Afetr all, Iran never said that it is changing its policy and ceasing to support terror organizations like Hezbollah and the Islamic Jihad. Iran is conducting negotiations regarding its nuclear program, but no more than that."