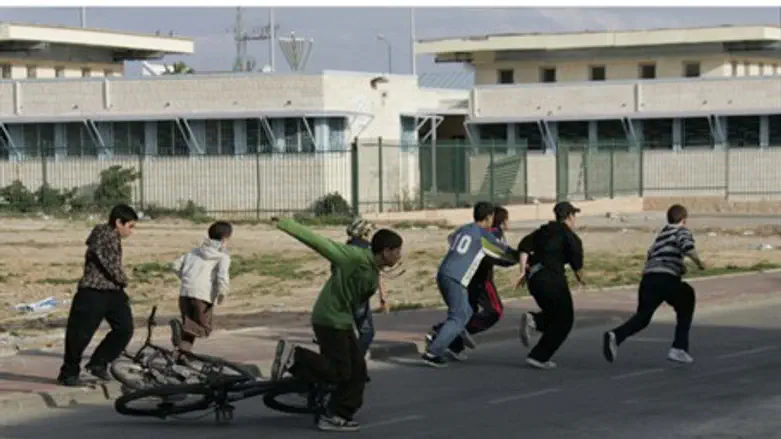 Children run for shelter in Sderot (archive)
Flash 90
Gaza-based terrorists fired a rocket at the southern Israeli city of Sderot on Wednesday night.
The rocket exploded in an open field, causing no physical injuries or damages.
Earlier on Wednesday evening, Gaza terrorists fired a rocket at southern Israel, but that rocket exploded within Gaza.
On Monday, a Gaza rocket was fired into the Ashkelon coast. It, too, exploded in an open area, and no physical injuries or damages were reported.
Following the attack, the Israeli Air Force struck a terrorist target in northern Gaza.
The target was a terror cell preparing another rocket launch into Israel.
Rocket fire from Gaza has increased over the past month. At least seven other rockets have been launched into the Eshkol region and Negev communities since February 3. 
Gaza's steady upswing in rocket attacks came after Hamas gave terrorists the "green light" to open fire just one month ago, by withdrawing its forces that were deployed to prevent such rocket fire. That force was redeployed, but this has had little effect.
Last Friday, the IDF destroyed a rocket launcher in Gaza. The IDF Spokesperson's Unit said that the attack "was meant to remove the immediate threat of rocket firing into Israel."