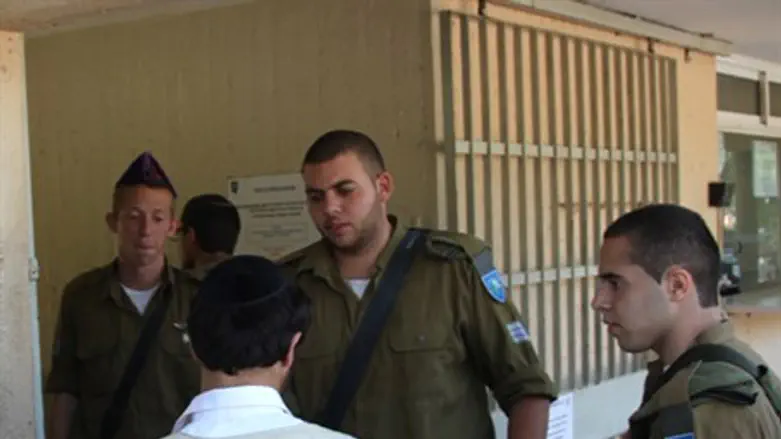 Hareidi man arriving at draft office (illustr
Flash90
As tensions escalate over the upcoming mandatory IDF draft for the hareidi sector, at least one ideological movement is proposing to abolish the mandatory draft altogether. Arutz Sheva spoke to Israeli Freedom Movement leader Boaz Arad to discuss the controversial idea Tuesday morning. 
Arad blamed the IDF for fomenting a "gang war" between different sectors in Israeli society, wasting the State of Israel's money, and causing risks to Israel's national security. He insisted that a voluntary draft, with the possibility for soldiers to get paid more and invest in a military career, is a necessary step to ease social tensions and will ultimately produce economic returns. 
Only 59% of soldiers currently complete the full army service period required by law, according to Arad, who also noted that at least 1,000 army jobs in the main bureaucratic center at the Kirya are redundant. The redundancies create a large vacuum of available funds over time, he stressed - and this has led to a wave of IDF growth that does not provide any additional security in practice. 
Meanwhile, Arad noted, the most vital IDF positions are already staffed by a large number of volunteers and motivation to join those positions remains high. A voluntary draft would increase the pitiful wages for soldiers to reasonable rates, and encourage more volunteers. 
"Fair salaries will raise demand for every IDF position," Arad stated. 
Arad also explained that the constant replacement of soldiers in various units, with old recruits being promoted or completing their service and being replaced by new draftees, wastes vital resources, time, and money. A volunteer draft would enable the military-minded to rise through the ranks while building expertise in their fields, he argued, and prevent the IDF wasting more money on training programs. 
Several MKs already support the initiative to make the transition to a professional army, but the Knesset hasn't quite caught on, according to Arad. Arad stated that the initiative was once brought to vote before, but failed to pass the preliminary reading by 13 to 60. 
Arad remained puzzled over the push for a hareidi draft, which would bring even more recruits into an already-overstaffed IDF. To him, the draft issue is not an issue of "equal burden," but of providing "equal freedom" from the draft itself.
"In practice, it's all a big bluff," Arad noted. "I do not understand what motivates the Finance Minister to push for equality because nothing that he is establishing now will bring equality." 
"If the latest initiative, however, would allow a yeshiva student to choose between a voluntary IDF draft, to work, or to go back to learn more Torah - that would be a step forward for more freedom for more people, and that is the only positive thing to stem from this issue."