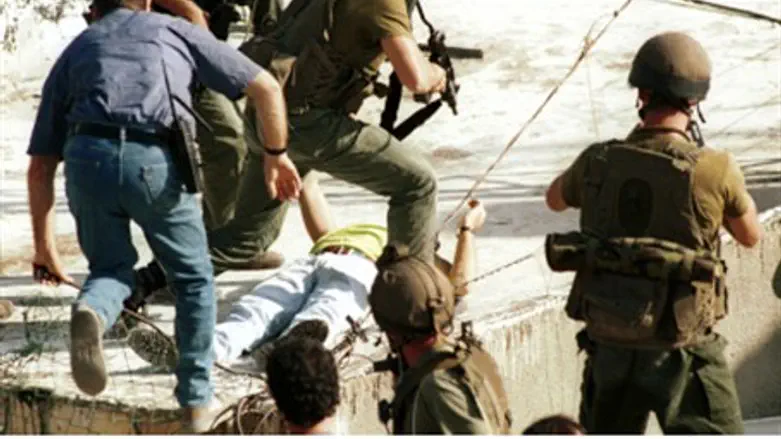 Yamam operation (file)
Israel news photo: Flash 90
A special Yamam SWAT police force raided a large structure at Bir Zeit, not far from Beit El, on Thursday, and wound up killling a terror suspect.
The force is of the type known as 'mistaaravim' – which disguises itself as a group of Arabs in order to avoid detection. Its mission was to arrest three wanted suspects.
The Yamam force arrested two of the suspects, but a third refused to leave the structure and holed up inside for several hours.
The SWAT team, accompanied by an IDF force, began carrying out a tactic known as "pressure cooker," which involves shooting at the walls of the house that is surrounded, while calling out to the suspect to come out.
The tactic failed to persuade the suspect to come out and turn himself in. The police SWAT and IDF forces exchanged fire with him and he was killed. The Israeli forces suffered no casualties.
The IDF Spokesman's Unit said that "in the course of joint counterterror activity by the IDF and security forces in Bir Zeit, north of Ramallah, a wanted man suspected of terror activity holed up inside his home.
Security forces called out to him to turn himself in, and at the same time used a variety of methods to get him to come out. When he refused to comply with the security forces, they took various steps and the wanted man was killed."
Meanwhile, security forces arrested ten wanted men. One at Kabaya, south of Jenin; two at Marda, near Kalkilyeh; two at Beyt Ur a-Tahta, west of Ramallah, and two at Bir Zeit. All the wanted men were taken to security forces for questioning.