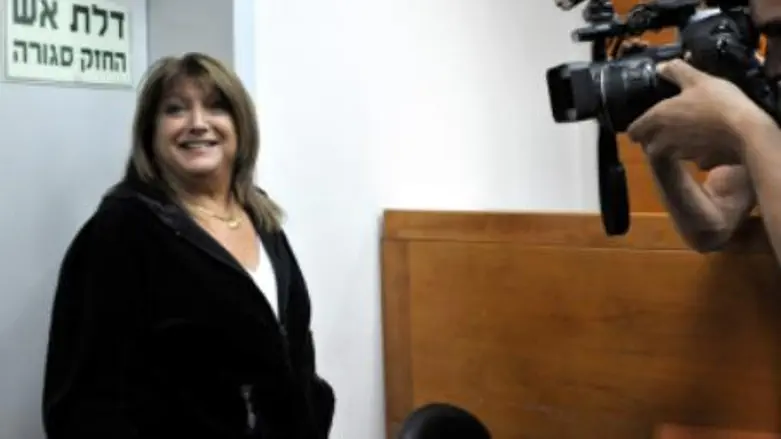 Shula Zaken
Israel news photo: Flash 90
Shula Zaken, formerly the head of former Prime Minister Ehud Olmert's office, may sign a plea bargain with the prosecution and become a state witness in the Holyland trial.
Channel 2 News reported on Wednesday that Zaken's attorneys have been holding discussions with the prosecution on this issue.
As part of the plea bargain, the report said, Zaken is expected to reveal everything she knows about Olmert's part in the Holyland case and in exchange will be given a lesser punishment.
Other reports said Zaken might also provide new testimony in cases against Olmert in which a verdict has already been reached. The court found Olmert guilty on charges of breach of trust in the case related to American-Jewish businessman Moshe Talansky, but the prosecution has appealed the verdict.
Zaken is long thought to have known much more about Olmert than she was willing to reveal, and has remained loyal to her former boss through both the Talansky affair and the Rishon Tours affair, in which ultimately she was punished, while Olmert was found not guilty.
Lately, however, she has changed her attitude towards Olmert, after the former Prime Minister testified against her. On Tuesday it was reported on Channel 10 News that Zaken underwent a "hatarat nedarim" ceremony in synagogue in which her vow to her father that she would not testify against Olmert was rendered null and void. Zaken had reportedly promised her father on his deathbed that she would not testify against Olmert, whom her father had greatly admired.
Maariv/NRG reported that Zaken also criticized Olmert at a recent event, saying, "You sold me out," and "You're calling me corrupt? Everything I did, I learned from you."
The new found tension between Olmert and Zaken can be seen in a Facebook status that Zaken's son, Nadav, recently posted.
"I did not choose to remain silent [unlike my mother], so after a long time I want to unload what's in my heart. Mister former Prime Minister Ehud Olmert - shame on you," wrote the son.