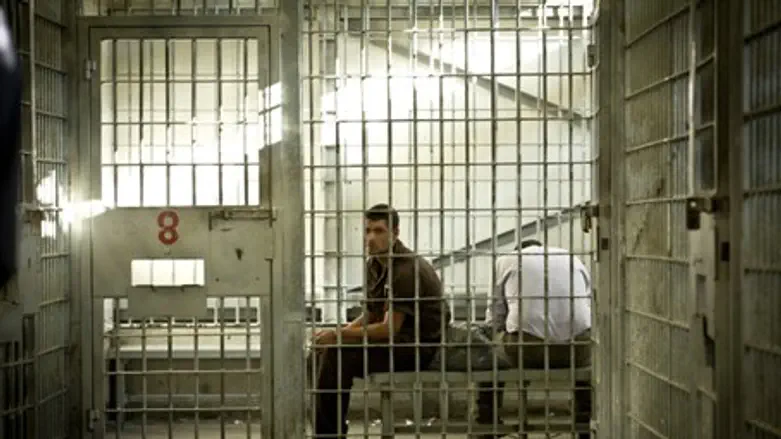 Prison (illustrative)
Flash90
The investigation of the shooting spree carried out by Samuel Sheinbein, an American-Israeli serving a lengthy sentence in Rimonim Prison for murder, intensified Wednesday after authorities found a massive 'escape cache' in the prisoner's cell, according to Walla! News. 
The cache includes a prison guard uniform, keys to the cell bloc where he was held, and ammunition, according to the daily. All indicate that Sheinbein's rampage was highly premeditated. 
Sheinbein shot and wounded three police officers Sunday in an apparent escape attempt; he was killed by police after unsuccessful attempts to apprehend him. An investigation earlier this week revealed that he had been showing 'signs of distress' for several weeks before the shooting and had even made a 'farewell call' to his lawyer. 
On September 16, 1997, Sheinbein and Aaron Benjamin Needle, a former classmate at the Charles E. Smith Jewish Day School in Aspen Hill, Maryland, killed Alfredo Enrique Tello Jr.. They then dismembered and burned his body. 
Sheinbein escaped extradition by claiming Israeli citizenship through his father. He pleaded guilty to killing Tello in an Israeli court in 1999. He was serving a 24-year sentence in Israel but could have faced life in prison if tried in the United States. 
It remains unclear how Sheinbein, who was held in round-the-clock solitary confinement, managed to build the 'escape cache' and procure the pistol for Sunday's rampage.
To determine the source, the Israeli Prisons Service (IPS) has begun cataloguing the cache and gathering eyewitness testimony from other inmates, guards, and witnesses of the attack, according to the daily.
The investigation will also examine why the IPS did not manage to discover the cache or Sheinbein's 'cries for help,' as it were, as well as whether or not the prisoner's death at the scene was inevitable.