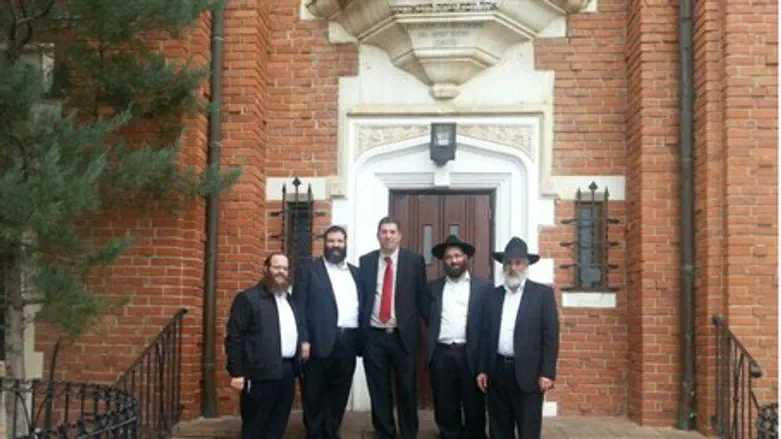 Wortzman in Kfar Chabad
Israel news photo: PR photo
Deputy Minister of Education Avi Wortzman (Jewish Home) visited a unique school affiliated with the Chabad Lubavitch movement on Tuesday, and came away highly impressed.
Wortzman took part in a class conducted via the internet, as part of a Chabad project to provide schooling for the children of the movement's shluchim (emissaries) around the world.
Chabad shluchim provide Jewish outreach and education in a variety of cities around the world. Often, the communities they join are lacking Chabad schools, or are lacking Jewish schools altogether.
Thanks to the new online school, their children can learn Hebrew and Jewish studies on a high level, while also making friends with other children of Chabad emissaries. Wortzman noted that in the class he joined, "sixth-grade girls from Hungary, Ukraine, Germany and Tokyo had a class together in Hebrew with a teacher from Israel."
"I was very touched that each of them presented herself to me as an emissary of the Rebbe [late Chabad spiritual leader Rabbi Menachem Mendel Schneerson – ed.] in the place she lives," he said. "From a young age, what drives them is the desire to be an emissary of the Rebbe and to do good for others."
Wortzman also visited a Chabad preschool and a girls' school. Like many Chabad preschools, the school he visited is affiliated with the public school system; its uniqueness lies in the fact that it teaches Yiddish, and teaches Hebrew reading at the age of four rather than at the age of six.
The girls' school, too, is affiliated with the public school system. Wortzman praised the staff for their ability to be part of the system of religious Jewish public schools (mamad) while at the same time teaching the unique Chabad approach, including a heavy emphasis on values such as giving.
"I met three-year-old children who have grown up their entire lives in an atmosphere of giving and volunteerism. These talented boys and girls, who are already reading in preschool, who excel in their studies, and who see themselves as part of Israeli society… are maintaining their identity within the complex fabric of Israeli society," he said.
Wortzman had high praise for the people he met throughout the day. "They are the shluchim of the entire nation of Israel in their commitment and in their modesty," he declared. "We should all learn from these people about educating children to generosity and compassion."