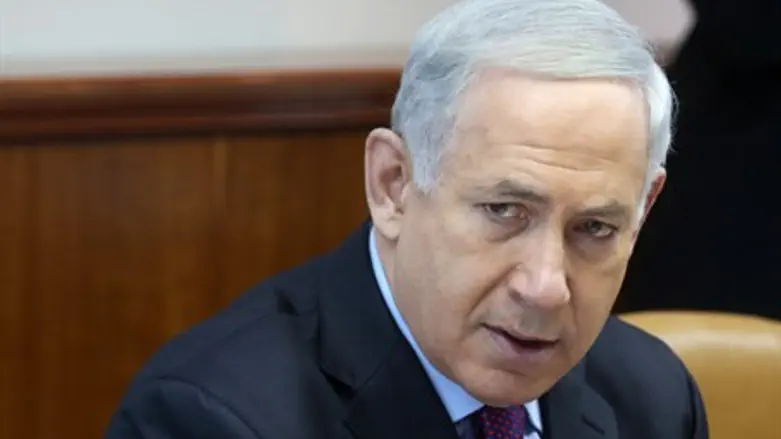 Binyamin Netanyahu
Flash 90
Prime Minister Binyamin Netanyahu spoke on Sunday night, emphasizing that the Palestinian Authority's (PA) refusal to recognize Israel as the Jewish state is the fundamental factor preventing peace. "Recognition of the Jewish state is a necessary condition for peace," remarked Netanyahu.
Speaking to a German television channel in advance of German Chancellor Angela Merkel's Israel visit on Monday, Netanyahu praised US Secretary of State John Kerry's efforts to push through a peace deal between Israel and the PA.
"The only way to achieve peace is to express support for Kerry's efforts," claimed Netanyahu. "Together with the Palestinians, and at their head PA Chairman Mahmoud Abbas, we have to sit at the table and reach an agreement."
"I'm ready to accept their existence in their country, why don't they accept me?" asked Netanyahu, stressing that the refusal to recognize Israel as a Jewish state is a major roadblock to peace.
"The obstacle of the peace talks is this principle (of recognition), and not the issue of Israeli building in settlements that gets such wide criticism in the West," argued Netanyahu. He further denied claims that construction is a key problem, saying it's an issue that "will be solved in the talks' framework."
Last Friday, US Ambassador to Israel Dan Shapiro declared the PA will be required to recognize Israel as a Jewish state in any framework agreement, a day after a PLO (Palestinian Liberation Organization) official claimed Abbas was ready to recognize Israel.
Abbas's PA has previously said the Arab states "will never recognize Israel," and as noted has repeatedly refused to recognize Israel. On Sunday, Hamas lawmakers warned that recognition of Israel would be a "death sentence" for the PA.
Kerry's has reportedly proposed that Israel would be forced to "earn" PA recognition as a Jewish state by obligating itself through guarantees that it will not compromise the status of Israeli Arabs.