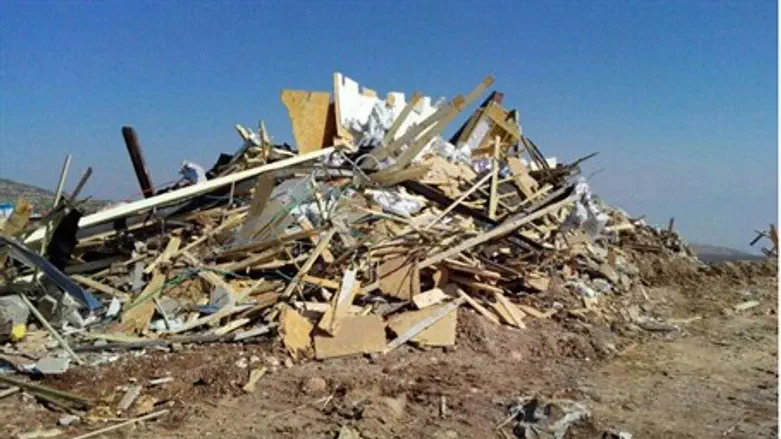 The destroyed Kaisler home
Binyamin Regional Council
A new campaign has been started to help the Kaisler family rebuild their house in Kida, Samaria, after it was destroyed by the IDF's Civil Administration earlier this month. The campaign has already succeeded in raising over 300,000 shekels ($85,000) for the effort.
Sagi Kaisler, director of the grassroots Shomron (Samaria) Residents' Committee, was left with losses of over 1 million shekels (over $280,000) after his house was destroyed, despite having a building permit. The destruction has been compared to a "targeted killing," and said to be an act of vengeance against Sagi for his activities promoting a Jewish presence in the region.
Attorney Doron Nir Tzvi spoke about the destruction, noting that the house was targeted despite the presence of hundreds of Arab-owned buildings with much more problematic legal standing in the immediate area.
"We expect the Jewish police forces to act in a more moral, humane manner, and to protect the human rights of good Jews, not only the rights of our enemies," remarked Nir Tzvi regarding the surprise demolition that was timed when no one would be around to protest.
Speaking about the campaign for the Kaislers, Betzalel Smutrich of the Regavim movement, an NGO watchdog group for Jewish national property rights, remarked: "Sagi lost his house because of his actions for settling (Judea and Samaria), and therefore the settlement enterprise must enlist to help him."
The Shomron Residents' Committee reports that a lumber storehouse has offered to donate lumber to build a new house, a factory specializing in the production of doors has similarly offered its services, and a contractor has offered to help build the infrastructure for a minimal price.
The campaign has been bolstered by reports of the Civil Administration's cruel conduct. Yossi Dagan, Deputy Head of the Samaria (Shomron) Regional Council, published an investigation that showed how the Administration sent an unprecedented force of 14 jeeps and numerous inspectors to accompany the demolition.
The investigation presented pictures proving that the house was inhabited before the destruction, exposing the Administration's claims to the contrary as false.