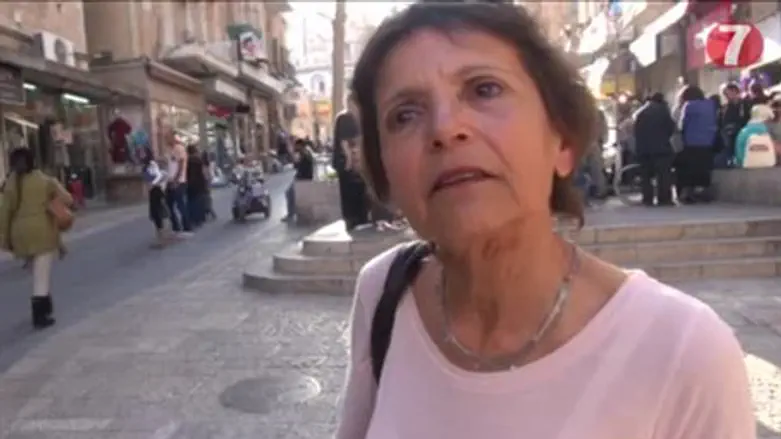 Nitza Meyuhas-Alber
Israel news photo
Sixty-six years have passed since the most deadly terrorist attack in Israeli history: a bombing on Ben Yehuda Street in Jerusalem that murdered 58 people.
Nitza Meyuhas-Alber was just three years old when the bomb went off, a short distance from her family's home. For hours she was trapped under the rubble, unable to move or even call for help.
"I have two birthdays," she told Arutz Sheva. "The first was when I came out of my mother's womb, a natural birth; the second was on February 22 [1948], when they pulled me out of the stone and concrete, out of the ruins."
She recalled the horror that followed the blast. "When children wake up they call for mommy and daddy, they run to their parents' bed. Instead, I found myself in a very different kind of bed, buried under the rubble.
"I was there for hours, I don't know how many. I was injured… I remember the dust that filled my mouth, I wanted so badly to cry or to scream but I couldn't," she said.
"I wanted to straighten my leg but I couldn't, because there was something very heavy on it… I touched my stomach and it was very soft. Everything that had been inside was on the outside.
"But I don't remember much," she continued, "because I was wavering between consciousness and unconsciousness."
Rescuers managed to find the young Nitza and to bring her to a hospital, where she remained for several weeks.
Before the bombing, Nitza lived with her parents, her mother's sister – a new immigrant from Poland - her older sister, and her baby brother Yuval. The bombing killed her mother, father, aunt and brother immediately.
"He was seven months old," Nitza said, recalling her brother, "We never sang him his first 'Happy Birthday.'"
Her father's sister, a single mother, took in Nitza and her sister. "She was very brave," Nitza said.
She spoke to Arutz Sheva from Ben Yehuda street, within eyesight of the place where so many lost their lives. Her aunt never returned to Ben Yehuda after the bombing, she recalled. "We also grew accustomed to not coming here, but at some point I did come and look… Every time I come here, it's very hard for me," she said.
"As much as I found new happiness – I have five children, thank G-d, and grandchildren, and no surprise that I wanted a big family… - I ultimately chose my own way to commemorate, which is to live with the constant lack, the loss, the knowledge of everything that should have been, but isn't," she said.
Her other form of personal remembrance is to make sure every day of her life has meaning, she added.
Nitza is in the final stages of writing a novel based on the tragedy. "When it is finished, I'll feel like I did my part to commemorate what happened," she concluded.