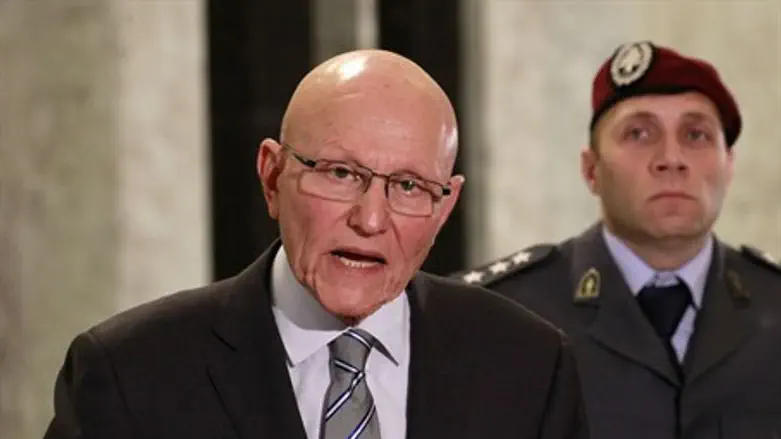 Lebanon's PM Tamam Salam
AFP photo
After 315 days of talks, Lebanon has a new government.
AFP reported that Lebanese Prime Minister Tammam Salam on Saturday unveiled a compromise government, capping 10 months of political wrangling during which the war in neighboring Syria exacerbated sectarian tensions.
The 24-member government, including only one woman, brings together Hezbollah and its allies with the Sunni-led bloc of former prime minister Saad Hariri, who back opposing sides in the Syria war.
"After 10 months of efforts, of patience, a government protecting the national interest is born," said Salam, who had been tasked with forming the cabinet in April, according to AFP.
"It is a unifying government and the best formula to allow Lebanon to confront challenges," he said, announcing the line-up to replace that of his predecessor Najib Mikati.
Syria's nearly three-year war has deeply divided Lebanon, and the violence his spilled across the border into the tiny Mediterranean country which has been hit by car and suicide bomb attacks.
Soon after being appointed Lebanon's prime minister, Salam pledged to safeguard the country from the war raging in neighboring Syria, and said that Lebanon should be "neutral" on Syria.
Sectarian clashes in Lebanon have increased since Hezbollah joined the fighting in neighboring Syria alongside President Bashar Al-Assad's forces.
The Shiite movement's strongholds in Lebanon have been the targets of repeated attacks. Bombings have also hit the mainly Sunni northern city of Tripoli, and ongoing fighting in that city between rival militias supporting different sides in the Syrian civil war have killed scores more.
Lebanon is also struggling under the weight of nearly one million Syrian refugees, who are testing its already limited resources.
Salam pledged to "bolster security... confront all types of terrorism" and tackle "the burden" faced by Lebanon as more refugees pour in from Syria, reported AFP.
Since April, efforts to form a government had stumbled over disputes between Hezbollah and the Hariri bloc which backs the Sunni-led uprising.
Britain, France, the United Nations and the United States all welcomed the new government, pledging to work with Salam and his cabinet to help Lebanon achieve security and stability.
The new government brings together for the first time in three years Hezbollah and the Hariri bloc, and the agreed compromise ensures neither side has veto power over the other.
The 24 portfolios are divided into three groups, with Hezbollah and Hariri's blocs each taking eight ministries, while candidates considered to be neutral allocated the remainder.
U.S. Secretary of State John Kerry said Washington hopes the new government will "address... urgent security, political and economic needs".
He listed the challenges ahead for Lebanon, including holding forthcoming presidential and parliamentary elections "in a timely, transparent, democratic and fair manner," according to AFP.
UN chief Ban Ki-moon also urged political leaders to prepare for the upcoming polls and help the government deal with "security, humanitarian and economic challenges."