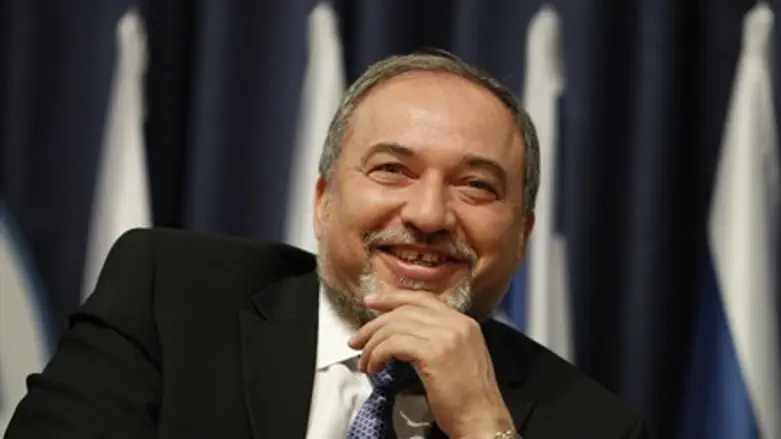 He's back.
Flash 90
Foreign Minister Avigdor Liberman denied in a weekend television interview that he has executed the U-turn toward the left that some nationalists are accusing him of, but was willing to concede a slight decline in his general "vigorousness." Speaking on Channel 2's Ulpan Shishi Friday evening newscast, Liberman said: "I do confess that at my advanced age, it may be that my tone has changed a little."
Liberman is seen as more moderate than he was in the past, after he came out in defense of US Secretary of State John Kerry, who has been maligned by nationalist politicians including Defense Minister Moshe Yaalon for attempting to force Israel to make irresponsible concessions in the "peace process." Liberman insisted that Kerry is "a good friend of Israel" and is not an anti-Semite. In addition, Liberman has been touting a peace plan that involves placing parts of Israel with large Arab concentrations under the sovereignty of a future "Palestine," in exchange for leaving settlement blocs in Judea and Samaria under Israeli sovereignty.
"I used to have more energy when I was younger and I was a little more vigorous but I think that the essence is the same essence, with the US as well," he told his interviewers. "I had excellent relations with Kerry in the previous government's term as well."
"I think the change is in the press, not in Avigdor Liberman," he explained. "Anyone who is loyal to the facts can examine all of the things that I said two years ago, ten years ago and what I said recently. I have not found anything new."
Daily newspaper Makor Rishon's political analyst, Sofia Ron-Moria, wrote Friday that Liberman's voters – who are mostly immigrants from Russian-speaking countries – do not care so much about his willingness to transfer parts of Israel to Arab sovereignty. His voters, explained Ron-Moria, will only leave him if they perceive that he is losing strength within Israeli politics. Liberman knows this, and apparently thinks that being on good terms with the US increases his power in Israeli politics.
Liberman's land and population swap idea was fiercely attacked by Arab MKs and leftists as well.