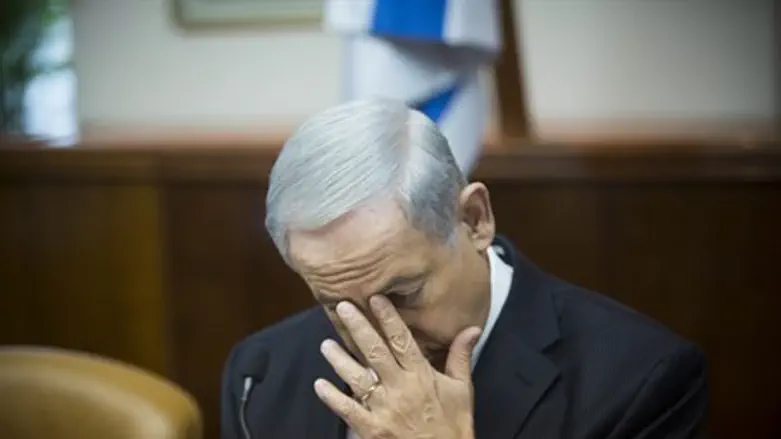 Exasperated: Prime Minister Netanyahu (illust
Flash90
Lawyer and former MK Elyakim Haetzni (Tehiya) spoke to Arutz Sheva Thursday about the ongoing peace talks between Israel and the Palestinian Authority (PA), and insisted that there will not be another major pullout from Israeli land - if only for political reasons. 
The former MK referred to the 2005 split between Likud, currently headed by Prime Minister Binyamin Netanyahu, and Kadima, currently headed by Shaul Mofaz. "The Likud party has already gone through one major split, where all of its [former] leftist elements removed themselves," Haetzni explained. "Thus, the scenario of removing [Jewish Home Chairman] Naftali Bennett and replacing him with [Labor Head] Yitzhak Herzog is not realistic." 
"Netanyahu would lose the coalition," Haetzni continued. "Or, as [Deputy Transportation Minister] Tzipi Hotovely put, 'Netanyahu loses his party if he adopts 'two states for two peoples'." 
"Netanyahu is also aware of the immense power of the nationalist forces in the Likud and the 12 seats of the Jewish Home," he added. 
He elaborated that most nationalists are silent today because of several factors, disappointment in leadership being one of them. "Channel 10 asked why the 'settlers' are silent, where the voices are that cried out before the Disengagement [in 2005]," Haetzni reflected. "Suffice it to say that since then the settlements have had no recognized leadership, the public has felt misled by the Yesha Council, and that traumatic experience still haunts us today."
"The Yesha Council is good for public relations, but is ineffective as a leadership organization," he charged. "In any case, the settlement community is growing -so why have an outcry? There is no building freeze and this already makes the atmosphere more relaxed [than in the past]."