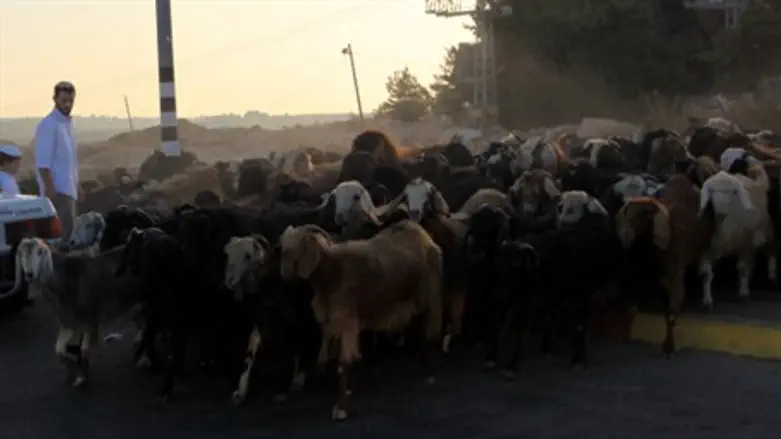 Sheep
Flash 90
Alert soldiers in Samaria recently managed to stop a massive sheep heist that could have dealt a serious blow to a local Jewish couple's livelihood.
Orna Hirshberg, who along with her husband owns the sheep, expressed gratitude at the soldiers' fast action. She warned that Jewish farmers are being targeted in a crime wave that, beyond causing financial damage, does tremendous damage to Israel's image as G-d's chosen nation.
Hirshberg noted that she and her husband have been taking turns guarding their flock at night. However, just a few minutes of inattention were enough for Palestinian Arab thieves to swoop in and nab half their livestock.
"My husband and I split it into two shifts. At one thirty in the morning I woke up my husband. He fell asleep for a few more minutes, and in the meantime the Arab thieves came," he recalled.
"We film everything… When my husband came out after a few minutes and saw the herd missing, he called for help and the army came. Thank God, they managed to find the herd, and it was returned to us two hours later," she continued.
The wave of thefts targeting Jewish farmers in Samaria must stop, she warned. "Last year they stole thousands of goats from farms across Samaria. They have a method where they steal half the herd, so that it isn't noticed immediately.
"We have to do everything in our power to catch them," she urged. "The Shin Bet knows who they are, because it's all on film. Every time they get away with theft it's an insult to the nation of Israel, because it will make others think G-d is not looking out for us.
"What happened in our case sanctified God's name," she added.
The Hirshbergs farm provides milk to make special cheeses, which they serve to visitors to their hometown of Itamar. They also host workshops on the use of wool in the Temple.
"My husband is a doctor of mathematics and lectures at Ariel University. When he came to Israel from the United States, he decided he wanted a plot of land in the land of Israel… In the morning he lectures in mathematics, and in the afternoon he's a shepherd," Orna Hirshberg related.