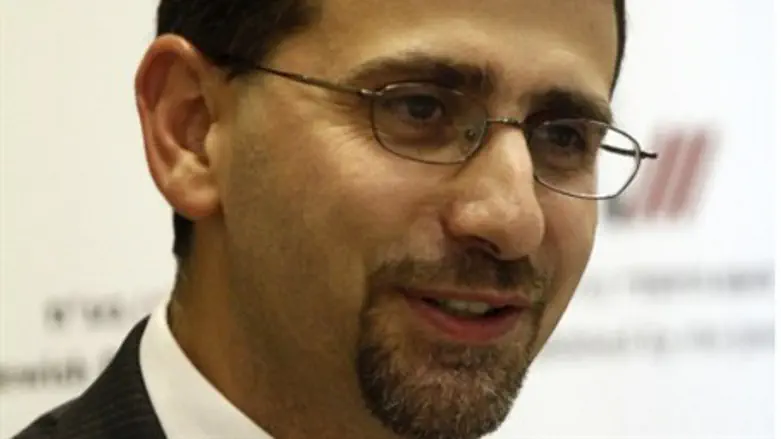 Dan Shapiro
Israel news photo: Flash 90
Channel 10 News reported on Wednesday that, as part of the United States' push for a peace agreement between Israel and the Palestinian Authority (PA), its ambassador to Israel has been meeting with MKs from the right side of the political spectrum in recent weeks.
According to the report, Ambassador Dan Shapiro has been holding talks with nationalist MKs in an attempt to gauge their possible reaction to the framework agreement that Secretary of State John Kerry is planning to present soon.
While no official details of the contents of this agreement have been made public, American Jewish leaders who were briefed by envoy Martin Indyk said several weeks ago that mentions a Palestinian state with borders based on the 1949 Armistice lines and with land swaps between Israel and the PA. 75 to 80 percent of the Jewish residents of Judea and Samaria would remain in their homes even after a permanent agreement.
Thomas Friedman of the New York Times, who is considered close to the Obama administration, has also published some details of Kerry's plan which, he said, will call for a phased Israeli withdrawal from Judea and Samaria based on the 1949 lines, with "unprecedented" security arrangements in the strategic Jordan Valley.
According to the Channel 10 report, Washington wishes to know in advance what the reaction from the right side of the political map to Kerry's proposal will be. As part of this effort, Shapiro has met in the past several weeks with several MKs from the Likud Beytenu and Jewish Home factions, including Deputy Defense Minister Danny Danon, Deputy Foreign Minister Ze'ev Elkin and coalition chairman Yariv Levin.
In two weeks, the report said, Shapiro plans to meet with MKs who head the Knesset's Land of Israel Lobby and are against any Israeli withdrawals from Judea and Samaria as part of a peace agreement.
Meanwhile, an alleged secret clause in Kerry's proposed framework is likely to cause upset on both sides.
A Jordanian Member of Parliament has claimed that one of the secret terms in Kerry's proposal would limit the Arab demand for the "right of return" – the term Arab states use in support of the "return" to Israel of millions of Arabs born outside the country who claim descent from those who left pre-state Israel during the War of Independence.
PA Chairman Mahmoud Abbas has declared that the "right of return" remains "a holy cornerstone… that cannot be signed away." This demand stands behind the PA's ongoing refusal to recognize Israel as a Jewish state.