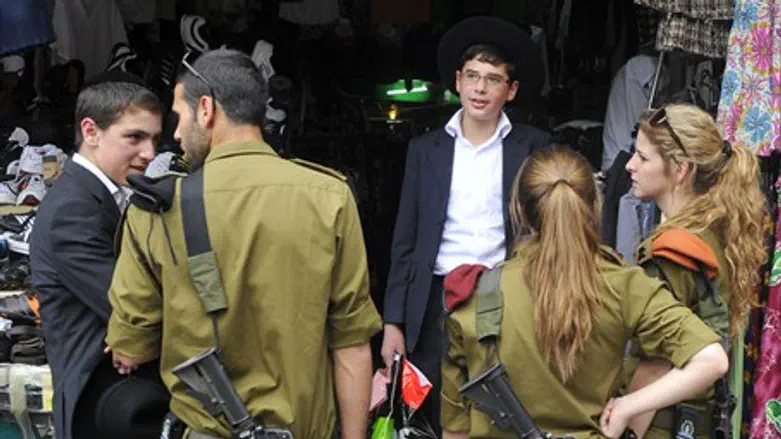 Israeli soldiers speak with hareidi boys
Flash 90
Speaking to MKs of his Yesh Atid party, Finance Minister Yair Lapid said Monday that he understood the anger in the hareidi community over the legislation that will require yeshiva students to serve a full term in the IDF, or face penalties. "This is not going to be easy," for Israelis or for members of the hareidi community. "Social revolutions are never simple," he said.
With that, he said, Yesh Atid would not allow the government to fall apart over the issue. "The principle is clear. Everyone has to serve, to work, and to support themselves. In another month, that will be the case in Israel, for all Israelis," Lapid said, adding that he expected the final bill to be approved by the Shaked Committee, which is discussing its tenets, to be presented for its first Knesset reading within weeks.
"On the day the law passes, tens of thousands of hareidi Israelis will get the message that they can now go out and look for jobs," Lapid said. "91% of 18 year old hareidi Israelis will join the army, and afterwards they will enter the job market. Our job is to help them. It's the right thing to do. Middle class Israelis can no longer, and no longer need to, pay the bills for others.
"I understand the anger and fear this process is causing in the hareidi public," Lapid added. "Change is difficult. I want everyone to remember one thing; we are not against them. They are our brothers, and we all must learn to live with the same rights and obligations."