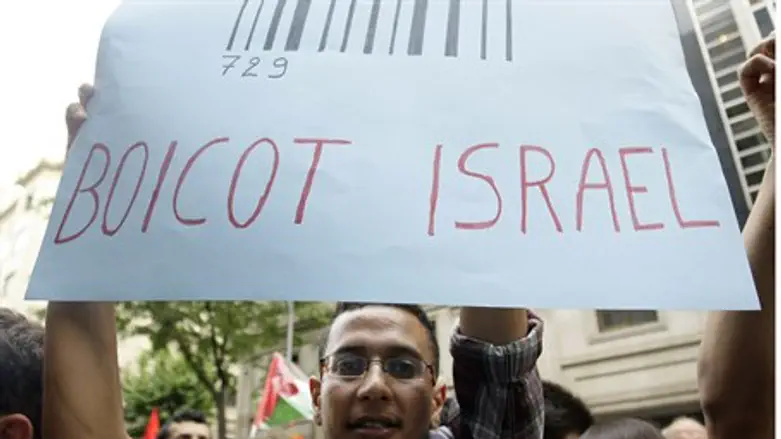 Anti-Israel boycott campaigners
Reuters
Dutch Jews are making it clear they don't intend to take the economic assault on Israel quietly. A group of young Jewish activists in the country have started a counter-boycott movement to make local firms feel the pinch for their discrimination against the Jewish state.
The Dutch pension asset manager PGGM, one of the largest in the country, announced in early January that it was divesting from five Israeli banks because they finance "Jewish settlements in the occupied Palestinian territories." The firm manages about 153 billion euros ($208 billion dollars) in funds. 
In response, a group of young Dutch Jewish professionals called Tradition is Our Future (TOF) have have launched a boycott of their own. The group, whose goal is to defend Jewish life in the Netherlands, decided to take action after the PGGM divestment while noting a recent wave of anti-Israel fomentation.
Some examples of this wave include Vitens, the largest drinking water company in Holland, which declared last December it was cutting ties with the Israeli water company Mekorot due to its presence in Judea and Samaria. In early January, the premier Dutch soccer team Vitesse left for training in the United Arab Emirates (UAE), leaving behind its best defender Dan Mori after UAE authorities refused to allow him into the country for being an Israeli.
"We are afraid that this is just the beginning, and therefore we need to take counter measures. We call upon you to help us to boycott those who boycott Israel," declared TOF.
The proposed counter-boycott targets PGGM's CEO Else Bos, who holds an advisory position on the board of Emory University located in Atlanta. Her profile can be seen among board members of the university's Center for Alternative Investments.
"We kindly ask for your co-operation and efforts to demand the resignation of Bos from her position in the board," requests the group, noting that doing so will send a message to PGGM and other Dutch firms considering to boycott Israel "that their policy is internationally unacceptable."
The Dutch Jewish group highlights the hypocrisy of PGGM in limiting "their moral crusade to only include Israel." They report the firm has invested in the Bank of China "while China occupies Tibet" and despite the bank's funding of terrorism, as well as Turkey which "has been occupying Northern Cyprus since 1974."
TOF summarizes, saying "it seems that PGGM believes that Israel and the Jews should be treated differently from other countries and other people."
The response of Dutch Jews fighting back brings to mind recent reports from France, where young Jews have begun taking matters into their own hands to defend their communities from a rising wave of anti-Semitism. In particular the French Jewish Defense League has been actively opposing public demonstrations of Jew hatred.