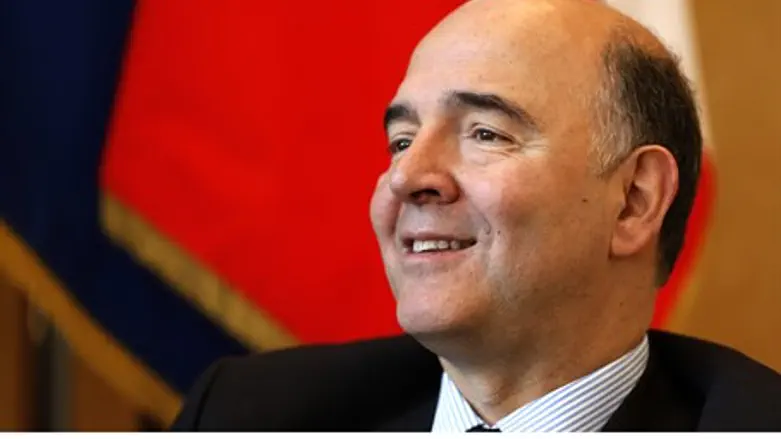 France's Finance Minister Pierre Moscovici
Reuters
France will have "significant commercial opportunities" in Iran if sanctions are lifted, but Tehran first has to prove its good faith in abiding by nuclear undertakings, Finance Minister Pierre Moscovici said on Sunday, according to the Reuters news agency.
Moscovici was speaking on LCI television as a French business delegation travelled to the Iranian capital for meetings with officials and business leaders.
The three-day visit is intended to "convey the message that, if the situation improves, there will be significant commercial opportunities for France in Iran", Moscovici explained.
"But the underlying message should be read as an (encouragement) to the Iranians to keep their word," he said, adding, "It's a very sensitive dossier."
In return for a pledge by Tehran to freeze key parts of its nuclear program, world powers including France agreed in November to a six-month suspension of sanctions on selected goods and services. The easing is only now beginning to take effect.
Iran's Deputy Foreign Minister Abbas Araqchi said on Saturday that his country had received the first installment of $4.2 billion in frozen assets as part of the nuclear deal.
The announcement was in line with claims made by American officials several weeks ago. These officials said Iran would receive the first installment of frozen assets on February 1.
The prospect of a relaxation of trade restrictions has whetted the appetite of French firms eager to win back business in a country of around 80 million people where some previously had extensive operations, reported Reuters.
AFP reported that a delegation of 110 members of MEDEF - France's largest employers' union - is due in Tehran on Monday to resume talks after an absence of several years.
No contracts will be signed due to the strict international sanctions still in place, but the visit is seen as a key step towards regaining a foothold in the country.
Renault said last week it had resumed shipments of parts to Iran, and that it expected production of the Tondar, an Iranian version of Renault's low-cost Logan model, to pick up progressively throughout the first half of 2014.
Along with French companies in sectors ranging from energy to food, the carmaker and its domestic rival PSA Peugeot Citroen are keen to resume business in Iran and reclaim the significant market share they enjoyed until sanctions were tightened.
Even as the interim deal has begun to be implemented, Iranian officials have continued their statements against Western countries and against Israel.
On Saturday, Hossein Salami, commander of the Iranian Revolutionary Guards, threatened to "minimize the breathing room of the U.S. and the West until the Zionist regime would no longer have room to breathe."
The threats echo recent remarks made by Ayatollah Ali Khamenei, Iran's Supreme Leader, who threatened the U.S. to "show self-restraint" after Secretary of State John Kerry told Iran that a military strike could still be possible.