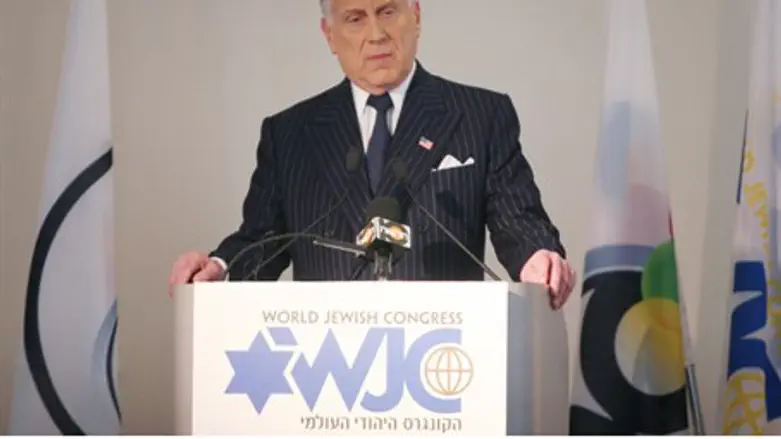 WJC president Ron Lauder
Flash 90
Germany must introduce a law specifically aimed at facilitating the return of Nazi-looted art, the head of the World Jewish Congress said Thursday after meeting with top German officials, according to AFP.
WJC President Ronald S. Lauder said there were still thousands of priceless artworks in the hands of individuals and museums that were stolen from Jews under the Third Reich and said the country was not legally equipped to handle such cases.
"One of the main reasons that these problems still exist is that there is no law in Germany that addresses the restitution of looted art," he said at a museum documenting the Nazi terror, according to AFP.
He noted that Germany had already negotiated compensation on "the difficult issues of slave labor, stolen bank deposits and insurance policies."
"I encourage Germany to deal with Nazi-looted art in the same comprehensive manner," said Lauder, calling the works "the last prisoners of World War II."
Lauder said he pressed this point in talks with German Foreign Minister Frank-Walter Steinmeier and Justice Minister Heiko Maas.
The onus should be on museums, not the victims of Nazi plundering, to search their collections for stolen works and track down their rightful owners, he declared.
"Austria has done this. France and Holland have made steps in this direction and the UK has a commission that is available to examine claims and advise the government on restitution," said Lauder, adding, "But this is Germany, where the crime began. More is required."
Lauder reiterated a call he made in an interview with AFP in November for Germany to lift a 30-year statute of limitations on reclaiming stolen property, and for the formation of an international commission that would help process claims and examine public collections in Germany for stolen works.
The state of Bavaria said this month it was drafting a national law to eliminate the statue of limitations that some art collectors have used to protect their holdings from claims stemming from the Nazi era.
Lauder welcomed the draft law, which is to go before the Bundesrat, the upper house of parliament which represents Germany's 16 states, on February 14, as "evidence of good faith."
Looted art has made news over the past few months, after it was revealed that Germany had discovered a vast trove of long-lost masterpieces, many thought to be Nazi loot, found in the Munich flat of an elderly recluse.
Although the more than 1,400 works by masters such as Picasso, Matisse and Chagall were discovered in early 2012, the spectacular find only became known to the public late last year through a news magazine report.
The man who was in possession of the priceless art, Cornelius Gurlitt, 80, is the son of Nazi-era art dealer Hildebrand Gurlitt, who acquired the paintings in the 1930s and 1940s.
Gurlitt has told German media that he has no intention of voluntarily returning the paintings and sketches to their former owners, though his lawyer said this week his client  was now willing to consider claims for some of the artworks that were found in his apartment.
Lauder warned that the Gurlitt case was likely to spawn "hundreds of separate lawsuits."
He said a claims commission would "rationalize the process and hopefully keep these claims out of the courts".
And he criticized the fact that a board of advisors known as the Limbach Commission, set up by Germany to help resolve ownership disputes, could only offer non-binding recommendations.
Lauder said the Nazis had kept detailed records so that in most cases provenance could be determined.
On Wednesday, the German government's top official for cultural issues, Monika Gruetters, told parliament that Germany plans to double public funding for restitution efforts following widespread criticism of its handling of the issue, and streamline the claims process.