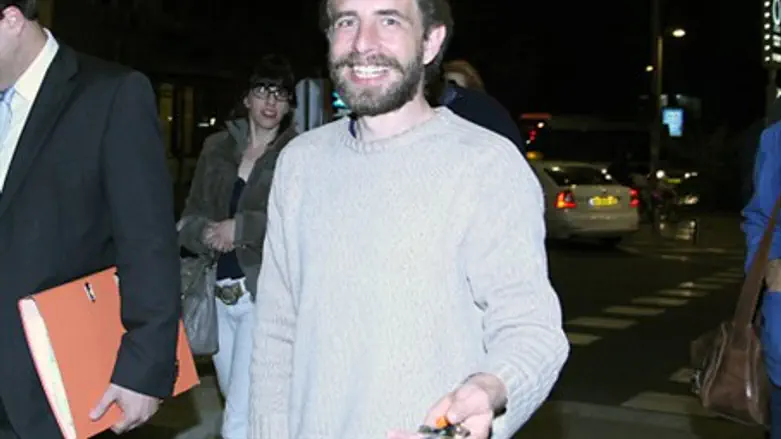 Adam Verta
Flash 90
The ORT educational network Hearing Committee announced Thursday that teacher Adam Verta, who incited against the IDF in his classroom and pushed a leftist-communist agenda on his students, will keep his job at the Kiryat Tivon high school near Haifa.
"Verta apologized this morning to his students and took back some of the things he said, primarily regarding the morality of the IDF and the position of ORT on enlistment, and clarified his other statements," reported the committee. "With that, it was decided to give him a warning not to repeat the incident, and not to take any steps other than that."
Despite the apology, in leaving the committee hearing, Verta told reporters that teachers must be allowed to express their political opinions freely in class.
"Meaningful learning is dependent on teachers expressing their opinions, of course, while creating a pluralistic atmosphere in the class that respects all opinions," remarked the teacher, who claimed his "struggle" was for the sake of his students.
Students reported Verta said in class that "the state did not belong to the Jews at all but to the Arabs, and as far as he was concerned, the Jews had no business being in Israel at all." The teacher also expressed his support of Hadash, the Israeli communist party.
MK Yoni Chetboun (Jewish Home) criticized Education Minister Shai Piron (Yesh Atid) on Thursday, who said the day before that teachers should not be fired over their political views. "Calling the IDF 'a cruel army' is not political position," said Chetboun, "but incitement against IDF soldiers."
Verta told the committee that he hadn't called the IDF immoral as student Sapir Sabah reported, but rather said the IDF has done "immoral things." Sabah said earlier that she stood behind every word she had said, including that Verta called the IDF immoral.
"I still stand behind the letter that I submitted, and despite that some of the media sources claim we have reconciled, I say: we seriously have not," declared Sabah. Sabah told Channel 2 that Verta's comments were "a lot more than just a political discussion; he can't be allowed to incite students."
The indoctrination in classrooms remains a very pertinent concern; a new Education Ministry program called "Israel moves up a grade," being pushed forward by Piron, lets teachers determine the topic of their instruction in 25% of the hours of their annual educational curriculum, and allows them to hold political discussions in class while expressing their personal opinions.