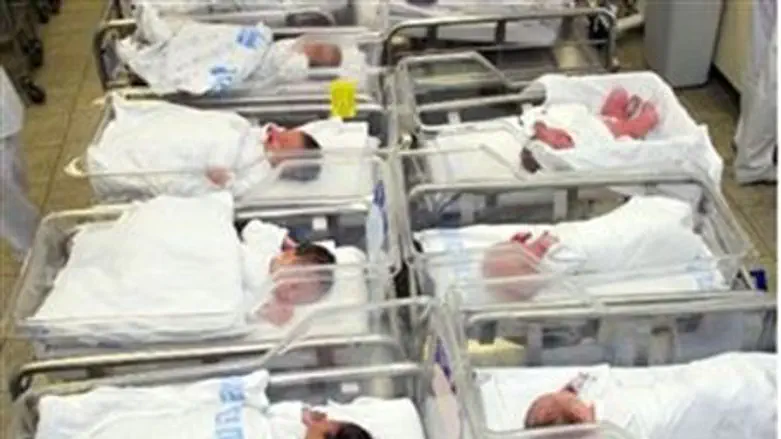 Babies
Israel news photo: Flash 90
Identical triplets from central Israel are finally all at home after spending months in the hospital following their birth in the sixth month of pregnancy.
The odds of giving birth to identical triplets are estimated at one in 200 million. Most doctors who heard of the triplet pregnancy gave the babies extremely low odds of survival.
Mother Meital Dadon, 26, of Bat Yam, shared her story Thursday in the Hebrew-language daily Yediot Aharonot.
"We have a three-year-old boy, Arel, and my husband and I decided we wanted another child. I went off the pill and got pregnant immediately," she related.
"In the eighth week I went to my first ultrasound appointment, to check if there was a pulse. The technician suddenly looked shocked, and told me, 'You have three fetuses,'" she recalled.
"I thought she was joking," Meital continued. "I got home and woke up Shlomi and told him, but he kept sleeping, he thought I was playing a joke. He only believed me after I showed him the ultrasound picture."
Many doctors advised the young couple to terminate the pregnancy, which they warned could be dangerous. However, Meital said, she found herself unable to do so.
"After I saw them in the ultrasound putting their feet on each other, I couldn't even think of it," she explained.
From the 20th week of pregnancy she was hospitalized in Beilinson Hospital in Bat Yam with a partially opening of the cervix. The triplets were born in an emergency caesarean section, two days before the pregnancy would have entered its seventh month.
The babies were born in serious condition. One weighed just 600 grams (1.3 pounds), one weighed 800 grams (1.8 pounds), and one weighed one kilogram (2.2 pounds).
For several weeks doctors feared for their lives. However, as time went on the babies' condition improved, and parents Meital and Shlomi were able to take two of them home.
On Wednesday, the third baby was able to go home as well, more than five months after his birth.
The babies have been named Kfir Abra, Lavie David, and Eitan Yosef.